Team Around the Family
Everyone needs a bit of extra support from time to time and having a Team Around your Family (TAF) can help. TAF is a way of finding out what extra support your family may need and how best to provide it.
What can we help with?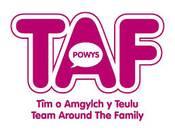 We can help with many aspects of life such as:
Parenting stresses and problems
Difficult family relationships
Access to sports, play and other activities
Improving your child's self-esteem and confidence
Dealing with times of change
Engaging with school or training
How to get help
It begins with a discussion between you and someone like a health visitor, teacher, youth worker, school nurse or mental health worker.
Together, you use a

Child And Family  assessment (CAF) [421KB] to help identify the support you need and who could help you get it. Your worker sends us a copy of the CAF assessment so that we can get things moving.
Your Family Contact is the main link between you and your team and leads your meetings. You can choose who that should be. At the first TAF meeting, you and your team agree an action plan together.
The plan is revisited at TAF review meetings until you are happy that you no longer need support. Your Family Contact makes sure that the things the team agrees to actually happen and that you are supported all the way.
The TAF Panel is a larger group made up of all the different services who work with Team Around the Family. They meet regularly and are there to help if any extra support or fresh ideas are needed.
If you choose to use the panel then your Family Contact can go to a panel meeting on your behalf. You are welcome to attend as well, if you wish to. You can also request that any particular agency be excluded from the panel.

Contacts
---