​​​​​​​Council receive keys to new school build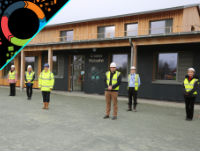 16 November 2020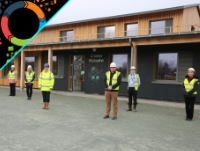 A new school project in north Powys has reached a key milestone after the keys to the building were handed to the county council by contractors.
Powys County Council received the keys to the new Welshpool Church in Wales Primary School from main contractor Pave Aways after it completed works to the main building.
The new school will help the council deliver its Strategy for Transforming Education in Powys, an ambitious 10-year strategy that was approved earlier this year (April).
It is also the first Passivhaus primary school to be built by the council.
The council will now work with school leaders on transitioning activities to ensure that the school is all set up for opening in January 2021 while Pave Aways will remain on site until December.
Landscaping, access and car park works are still ongoing and some of this work with continue into the New Year but it will be safe for the school to open. A new active travel route to the school will also be complete by the school's opening.
Work on the new school started in July 2018 but came to a halt in March 2019 after main contractor Dawnus went into administration.
Pave Aways resumed work on the new school earlier this year after being awarded the contract to finish the project, which was delayed again due to the coronavirus pandemic.
Welshpool Church in Wales Primary School is the latest project that the Knockin-based company has completed for the council.
The firm has completed several projects for the council previously including constructing a new replacement building for Ysgol Carno and carrying out major refurbishment works at Ysgol Glantwymyn. Both projects were part of the council's 21st Century Schools programme.
Cllr Phyl Davies, Cabinet Member for Education and Property, said: "I'm delighted that we have received the keys for the new Welshpool Church in Wales Primary School.
"I would like to thank the school community for their patience in what has been a difficult and testing construction project. They only have to wait a little longer before the doors open in the New Year.
"This new school is an important part of our strategy to transform education in Powys and will provide a learning environment that will allow learners and teaching staff to thrive and reach their potential."
The school construction project is being funded by the Welsh Government 21st Century Schools Programme and is 50% funded by Powys County Council. The project is being delivered in partnership with Heart of Wales Property Services.
Steven Owen, Managing Director of Pave Aways, said: "As well as providing a contemporary and energy efficient school that will serve the children of Welshpool for years to come, this build has given a huge boost to the economy.
"It has supported a large number of jobs on site and through our supply chain. Producing a building of this size that reaches Passivhaus standards is a huge achievement and one that everyone who has worked on the school should be proud of."
Justine Baldwin, Headteacher of Welshpool Church in Wales Primary School, said: "This is a beautiful building and the perfect learning environment for our children. I think they will be blown away by our amazing new school and we're just so excited about getting here in the New Year."