Library Service online book group - meeting soon!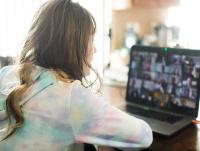 18 November 2020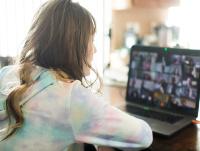 Powys Library Service is proud to launch Powys Remote Readers, an online book group for adults across the county.
Keen readers are invited to join the online book chat every two months, from the comfort of their own homes, with meetings taking place on Zoom.
The first meeting will be on Friday 27th November. Dr Rhiannon Hooson, branch librarian at Presteigne Library, and an award-winning author and poet, will be leading the group.
Titles will be e-books selected from the library's free Borrowbox collection. The first selected title is 'A Skinful of Shadows' by Frances Hardinge - A ghostly thriller set during the English Civil War, in which Makepeace, our main protagonist, struggles with a dark inheritance.
Councillor Rachel Powell, Portfolio Holder for Young People and Culture, commented: "So many of our library members are really missing their book clubs during this pandemic, so this is a great way to reconnect and discuss, with like-minded people their thoughts about specific books. This can be undertaken albeit virtually but, from the comfort of their own homes.
"There are opportunities to be had, as the virtual offer can be far more reaching, which means that people from all over Powys can get involved in a way that would normally be impractical.
"We are very grateful to Rhiannon for trying this new initiative, and I hope it will go from strength to strength. Becoming engrossed in a good book allows us to be mentally stimulated, as well as providing a vivid glimpse into new ideas and principles, as well as, a unique insight into the World of travel and cultures that exist in faraway Countries. I believe that for many of us, this has been very much valued, whilst we remain safe in our own homes'.
To sign up to Powys Remote Readers and receive the link to join the first meeting, please email presteigne.library@powys.gov.uk
Anyone who hasn't already tried the Library Service e-books, e-audio downloads, e-magazines and e-comics are encouraged to do so - all you need is your library card. For advice on getting started, library staff are happy to help. Please contact the team on 01597 827460 or email library@powys.gov.uk.