Contractor appointed to build new council houses in Newtown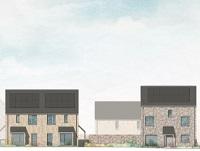 23 November 2020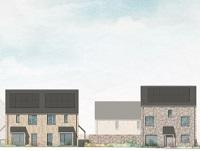 A Welsh construction company has been appointed to build an affordable housing development in north Powys, the county council has said.
RLD Construction (R L Davies & Son Ltd) has been awarded the contract by Powys County Council to build 18 new council homes in Maesyrhandir, Newtown. Work on this scheme is due to start early in the new year.
The £3.5m development, which is being built on land formerly occupied by the Red Dragon pub and youth centre, will provide 18 low-carbon homes including a bungalow and a mix of two, three, four and five-bedroom houses. These will be available to rent from the council at an affordable rent.
The Welsh Government has provided a grant in the region of £2m through its Innovative Housing Programme towards this development.
UK-grown timber will be used in the scheme for the timber frame construction along with wood fibre insulation which supports and meets the council's Wood Encouragement Policy.
Cllr Iain McIntosh, Powys County Council's Cabinet Member for Economic Development, Planning and Housing, said: "I'm delighted that RLD Construction have been appointed as the lead contractors for this exciting and innovative social housing development project in Newtown.
"We successfully awarded this contract to RLD Construction following a rigorous tendering exercise that met the public sector procurement regulations.
"This development, which will meet the needs of the local community, is one of the many housing schemes at various stages of development across the county.
"We look forward to working with RLD Construction for the duration of this construction project.
Mel Pitts of RLD Construction, said: "As a Welsh firm, we are very proud to continue with our work through Wales and we are delighted to be appointed as the principle contractor for this scheme and deliver much needed affordable council homes in Powys.
"Already having experience of working in Powys, we are very much committed to working and engaging with the local contractors and communities through this contract."
The Colwyn Bay-based company will be required to use a substantial proportion of local sub-contractors and suppliers, who will be paid swiftly through a project bank account, as well as deliver additional community benefits during the scheme's construction.
Meet the Buyer events will be arranged shortly so that local contractors and suppliers have the opportunity to meet RDL Construction as part of the scheme.