Name chosen for new Newtown school
24 November 2020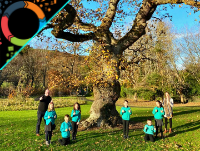 A new school in north Powys that will open next year has been named, the county council has said.
Ysgol Calon y Dderwen will be the name of the new all-through English-medium primary school that will open in Newtown in September 2021.
The new school will be established through the merger of Ladywell Green Infants School and Hafren C.P. School after Powys County Council's Cabinet approved the merger earlier this year (March).
Ysgol Calon y Dderwen will cater for pupils from the ages 4-11 and will operate on the existing Ladywell Green and Hafren sites.
Pupils at both schools came up with more than 130 different names for the new school with the temporary governing body shortlisting three names and asking the community for their opinions online.
In addition to agreeing the new school name, the school's senior leadership team has also been confirmed with Carl Hyde appointed as Headteacher and Lynne Roberts-Watkins appointed as Deputy Headteacher.
Neil Ainsworth, Chair of Ysgol Calon y Dderwen's Temporary Governing Body, said: "I am extremely proud to be a part of this exciting new chapter, as both of our existing schools move proudly forward, merging to become one new school named, Ysgol Calon Y Dderwen.
"This is such a fantastic opportunity to expand on our continued successes and provide first class education to our children, not only presently, but for future generations to come. I would like to thank all involved who have worked extremely hard to get this point.
"This is an exciting period not only for staff, parents and children, but for the whole of Newtown, as we look forward to a new development on our wonderfully spacious site, and the possibility of future collaborations with other agencies, to develop a unique opportunity for the town and surrounding areas."
Headteacher Carl Hyde said: "It gives me great pleasure to be able to share the name of our new school, Ysgol Calon y Dderwen. It's a very exciting time for our staff, children, parents and wider community, bringing two excellent schools together, both with outstanding practice, and to have an opportunity to build on these solid foundations and to become one family, will drive us to be even more successful.
"The name, Calon y Dderwen, has been chosen by our children, for our children, and respects the history of both schools.
"A 250-year-old oak tree sits proudly in our incredible green space and is an emblem of solidity and strength. This will be a school which provides the very best for our children, the best experiences, learning opportunities, in a kind, caring, nurturing and inclusive environment, with the needs of our children at the heart of all we do."
Cllr Phyl Davies, Cabinet Member for Education and Property, said: "In just under 12 months, a new chapter for education in Newtown will begin with the opening of Ysgol Calon y Dderwen.
"I would like to wish governors, staff, parents and pupils all the best over the coming months as they make the preparations as part of this merger. I will look forward to working with them as we work to improve the learner experience for those children who will attend Ysgol Calon y Dderwen."
The new name will be subject to a delegated decision by the Cabinet Member for Education and Property.