Award nomination for Newtown Area Library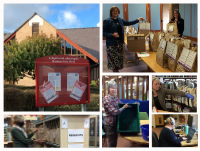 25 November 2020
Staff at Newtown Area Library have been shortlisted for the Welsh Library Team of the Year Award 2020.
The award, new this year, celebrates the achievements of teams working within library and information services across Wales, particularly those that have had a positive impact on the community, improved library services and shown innovative practice and partnerships.
Councillor Rachel Powell, Portfolio Holder for Young People and Culture, said: "It's wonderful news that the Newtown Library team are one of three teams shortlisted for this award, picked from teams from across the whole of Wales.
"This is an outstanding achievement for the staff and is very well deserved. I wish them all the very best and am looking forward to hearing the final results next week."
The winning team will be announced at the CILIP Cymru Wales Open Day and AGM on Thursday 3rd December 2020.
The award will be presented by Lord Elis-Thomas MS, Deputy Minister for Culture, Sport and Tourism and Nick Poole, Chief Executive CILIP, the library and information association.
Maureen Jones, Branch Librarian, commented: "Newtown Area Library has always had a dynamic team and during Covid-19 they have delivered many new services; from calling older customers to developing online quizzes and creative writing and poetry competitions.
"The challenging shift from advising readers, to choosing books for them, was also embraced by the team, and all this while overcoming IT technicalities and tremendous uncertainty.
"They have demonstrated true professionalism and adaptability, making good use of their training, skills and knowledge, and have worked with good humour throughout."
More information about the event can be found here: https://www.cilip.org.uk/events/EventDetails.aspx?id=1427366&group=200145