Cabinet members meet Brecon High School parents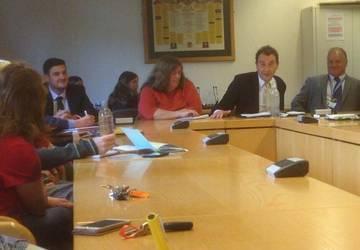 Cabinet members from Powys County Council have met with parents from a south Powys high school and listened to their views about the future of the school's Welsh stream.
Leader Cllr Rosemarie Harris was joined by her Cabinet colleagues Cllr Myfanwy Alexander, Cllr James Evans, Cllr Liam Fitzpatrick and Cllr Martin Weale where they met with parents from Brecon High School.
At the meeting, the Cabinet members listened to the views and concerns that parents raised about the Welsh stream at Brecon High School.
Cllr James Evans, Cabinet Member for HR and Communications, said: "This is a new Cabinet and we are keen to meet with all our communities regularly to hear their views. We were elected by our residents to change Powys, and listening to the community is a vital part of that process.
"I hope that the meeting regarding the school and attending the Brecon Chamber of Trade gives our communities reassurance that we are here to listen."