New boardwalk for Priory Groves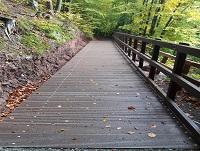 03 December 2020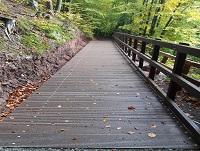 A footpath in south Powys has been repaired following heavy storm damage earlier this year, the county council has said.
Following successive storms Dennis and Ciara back in February, heavy rain caused the ground of a popular footpath through Priory Groves, Brecon to be washed away, leaving the area dangerous to visitors and in need of essential repairs.
Supported by funding from the Welsh Government's Emergency Financial Assistance Scheme (EFAS), Powys County Council's Outdoor Recreation team have installed a new boardwalk on the footpath, made up of a strong Glass Reinforced Polyester and planks produced using silicon carbide grit. This allows the boardwalk to last a long time, with no weather deterioration, and provides a safe anti-slip surface for all users.
The cores of the new boardwalk planks have also been constructed using recycled plastic bottles, preventing them from being sent to landfill.
After delays caused by the COVID-19 restrictions, the construction was completed in October and the council are now pleased to announce the reopening of the footpath for public use once again.
Cabinet Member for Leisure, Cllr Rachel Powell said "Managing the urban green spaces around the county is something we, as a council, must do to keep them safe and available for public use, all year round.
"The dangers Storms Dennis and Ciara created to the public on this footpath made it paramount for us to get the repairs done as quickly, safely and efficiently as we possibly could.
"I would like to thank the team for their work in installing the new boardwalk and the fact that some of the materials used in the construction are recycled, is a bonus.
"I am very glad that this area is now safe and accessible for the public to enjoy once again."
This project is part of an ongoing programme to maintain and enhance the woodland and footpaths within the Priory Groves. This will help the public and visitors to use and enjoy this lovely greenspace throughout the changing seasons of the year.