New online self-service tool for Powys Commercial Recycling customers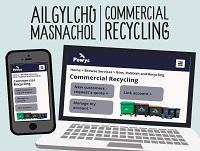 8 December 2020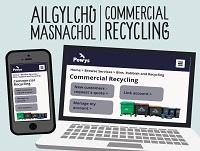 Customers of the Powys Commercial Recycling service will now be able to access and manage their accounts online using the council's new web-based customer portal.
Existing customers have been sent details of how to log into the councils website (www.powys.gov.uk) and link their accounts within the new portal, allowing them to quickly and easily manage their account 24/7.
The new self-service features are a great addition to this invaluable collection service, and include:
View all details of your contract, including site locations, type and quantity of bins and containers, collections days, times, and frequency
Use the online calendar to view scheduled collections, add additional collections, re-arrange missed collections, etc
Report any missed collections
Request an additional collections/lift outside of your normal schedule
Report damaged bins and request replacements
Order pre-paid sacks.
View your contract and recent Waste Transfer Note documents
"Every business, organisation and charity have a duty of care, by law (Environmental Protection Act 1990, Section 34), to ensure that their waste and recycling is processed correctly, including any waste that comes from a commercial activity that is run from home." Explains Cllr Heulwen Hulme, Cabinet Member for Waste and Recycling.
"It is important for businesses to know what they can and can't do with their waste to comply with these regulations and avoid any hefty fines. The Powys Commercial Recycling can work with businesses, organisations and charities to ensure they comply with regulations legally whilst doing their bit for the environment by recycling as much as possible.
"This new self-service tool is an excellent addition to the service we provide our customers. It will make things so much easier for them to manage their account at the click of a button, any time of the day."
Commercial Recycling customers must remember to log into or register for a 'My Powys' account to access the new online self-service tool on the Powys County Council website. For more information, please visit https://en.powys.gov.uk/commercialrecycling or contact the team directly: commercial.recycling@powys.gov.uk or 01597 810829