Pupils to return to school next week
4 January 2021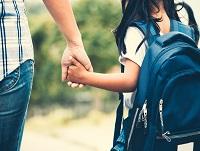 Schools in Powys will not be re-opening to all learners later this week, the county council has said.
Learners were expected to return to the classroom this Wednesday (6 January) following the Christmas holidays.
However, with concerns over the new coronavirus variant, Powys County Council has today decided that the majority of learners will now not return to school before Monday, January 11.
Schools will be open from Wednesday, January 6 for primary school-aged learners and those in Years 7 and 8, whose parents or carers are key workers, as well as vulnerable learners.
Schools will now offer blended learning from this Wednesday onwards for those learners who will be at home.
Maintained 3+ settings and also childcare for key workers with school-aged children will continue.
Cllr Phyl Davies, Cabinet Member for Education, said: "Our intention was for our learners to return to school later this week following the Christmas holidays.
"However, we continue to be in the grip of this pandemic that continues to raise a number of challenges which we have to adjust and adapt accordingly. Things are moving rapidly across Wales and the UK, and we need to ensure that we are responsive so that our pupils, families and staff are as safe as we can make things.
"This decision has not been taken lightly but given the new coronavirus variant and that Wales is still in Alert Level 4 restrictions, it is only right that we delay the return of all learners to schools."