Ysgol Gymraeg Y Trallwng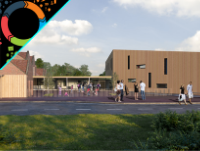 6 January 2021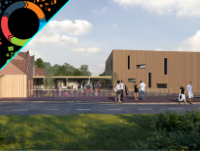 A new Welsh-medium primary school that has been subject to a significant re-design in Welshpool will soon be under construction, the county council has said.
Powys County Council is looking to build a new 150-place primary school for Ysgol Gymraeg Y Trallwng in Welshpool, which was established in 2017 following a re-organisation process.
The project is being funded by the Welsh Government's 21st Century Schools Programme and is 50% funded by the council.
Next week (Tuesday, January 12) Cabinet will be asked to approve an additional £1.35m from the council's 21st Century Schools Programme to meet the additional costs that have been incurred following a decision by the Welsh heritage body Cadw to list the old Ysgol Maesydre building, and then the subsequent collapse of the original contractor Dawnus Construction Ltd.
The design team have developed an innovative scheme that combines the old and the new which will provide the pupils of Ysgol Gymraeg y Trallwng and the community of Welshpool with fantastic facilities whilst maintaining the presence of the iconic Ysgol Maesydre.
The old Grade II listed building will be refurbished to accommodate early years and community facilities and a new extension will be built to include a new school hall and classroom bases.
Cllr Phyl Davies, Cabinet Member for Education and Property, said: "It has been four years since the decision was taken to build two new schools in Welshpool and the original plan was to build them at the same time.
"However, in early 2018, Welsh heritage body Cadw confirmed Grade II listed status on part of the former Ysgol Maesydre building which meant that the council had to revise its project plans and the costs.
"Then in March 2019, we suffered another setback when Dawnus went into this administration, which meant that we had to re-tender the scheme.
"The decision by Cadw as well as the collapse of Dawnus were completely beyond the control of the council.
"Disappointingly, it has meant that we have incurred additional costs which need to be met if we are to progress to the construction phase of this project.
"I am recommending to Cabinet that the council increasing its funding allocation by £1.35m to reflect the additional cost as well as submitting revised project cost information to the Welsh Government.
"Our exciting plans for Ysgol Gymraeg y Trallwng will provide our learners with 21st Century facilities while preserving and modernising a Grade II listed building for the community of Welshpool to use.
"We have a strategy to transform education in Powys and the Ysgol Gymraeg Y Trallwng new build shows our commitment to deliver this important strategy. When complete, it will provide a learning environment that will allow learners and teaching staff to thrive and reach their potential through the medium of Welsh."