Council's contract tracing team asked thousands to self-isolate during December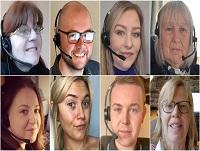 8 January 2021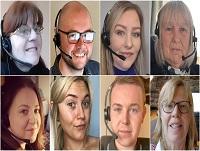 Contact tracers working in Powys spoke to more than 2,000 people in the county, and elsewhere in Wales, who tested positive for COVID-19, during December.
The team of more than 160 County Council employees, who are being funded by the Welsh Government, worked every day throughout the month - including Christmas Day - to help stem the spread of the virus.
The tracers and advisors - who operate in shifts between 8am and 8pm, seven days a week - have been busy making phone calls to people who have tested positive for COVID-19. They have been telling them to self-isolate, identifying their close contacts and offering reassurance.
The calls have been made to Powys residents and to those in other parts of Wales, when needed, as part of a partnership between the council and Powys Teaching Health Board.
During December 1,076 index cases (people who have tested positive for COVID-19) were identified in Powys. Of these, 98% were successfully contacted and told to self-isolate. This helped to identify 3,458 people that they had been in contact with, with 97% of these successfully reached and told to self-isolate.
During the month, the Powys contact tracing team also took on 1,006 index cases and 780 contact cases (people who have been in close contact with those who have tested positive) from other parts of Wales.
Portfolio Holder for Corporate Governance, Engagement and Regulatory Services, Cllr Graham Breeze said: "Powys' Test, Trace and Protect service has performed well from the start and I'm really pleased to see that these excellent standards have been maintained as we have taken on more work, which has included providing support to other local authorities in Wales.
"The staff involved are playing a vital role in helping to control the spread of COVID-19, both locally and further afield, as we battle with rising infection rates, and I would urge all who are contacted by them to heed their instructions and self-isolate.
"This service is also providing much needed employment for some of those who have lost their jobs as a result of the pandemic and is a fine example of what can be achieved when public bodies work together."
As of Monday, 11 January, Powys County Council will be employing 58 (50 FTE) contact tracers and 104 (68 FTE) contact advisors within its Test, Trace and Protect service; all funded directly by Welsh Government.