New family life for Amy thanks to Shared Lives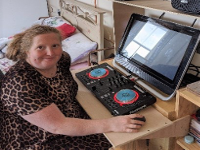 January 20, 2021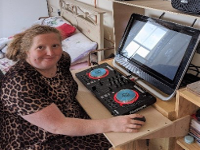 Twenty six year old Amy now lives as part of a new family in Powys thanks to her Shared Lives placement.
Amy, who has learning disabilities, is one of dozens of adults in Powys who are living with new families as an alternative to living in care homes.
Powys County Council manages the Shared Lives scheme in the county which sees people who wish to receive this style of support matched up with families, who receive payment for the support they provide.
Amy, who lives in the south of the county, explained: "I am 26 years of age and I am living with my Shared Lives family in Powys. I like to call them my 'foster family'. Now I am part of a family comprising of five children and I think of them as my foster brother and sisters. I have a foster niece and nephew, who are both 3 years old and they call me Aunty Amy."
"I can't believe how much my life has changed and while I was a bit scared at first, I feel happier now than ever," explained Amy. "I like the privacy of having my own room and my things set out how I want them. I have a great big cinema TV to watch Netflix on and I have my own DJ decks to practice with. I love using my Alexa to play music and can spend hours enjoying singing and using my decks."
Councillor Myfanwy Alexander if Cabinet Member with responsibility for Adult Social Care with the council. She explained: "The Shared Lives scheme is a fantastic opportunity to make the world of difference to someone like Amy. Many of us have been reflecting on our lives during the COVID crisis and if your reflections have led you to consider helping others to live fulfilled lives, this could be worth investigating. Come and have a discussion with us: we know from experience that Shared Lives can change someone's world, so could you make that happen?'
Amy explained how the pandemic has affected her life: "Although there have been some changes as I haven't been able to do my volunteering with the Monkey Sanctuary, care home and doggy day care because of Covid-19. It has not stopped me from finding plenty to do. Mike (the family's Dad) bought an old caravan for us to renovate so we can do it up ready for some new adventures. We love camping and our family holidays together, so it was the ideal project for us to work on in lockdown. I have helped and learnt how to wire it up, enjoyed wallpapering tasks and I have helped with making and fitting new cupboards. Even with the progress so far it is barely recognisable from where we started!"
Information about the Shared Lives scheme can be found at https://en.powys.gov.uk/article/1901/Supporting-adults-Shared-Lives or people who would like an informal chat about the scheme can telephone the Shared Lives team at 01597 827247 or emailing shared.lives@powys.gov.uk.
The scheme not only provides support for people with learning disabilities but also to others such as older people, people with mental health problems and adults with a physical or sensory disability and young people in transition from care. Training and support is provided for all families who wish to open up their homes under the Shared Lives scheme.