Environmental Permit application is to be submitted for North Powys Bulking Facility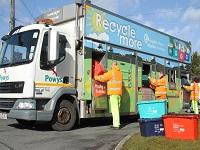 1 Februray 2021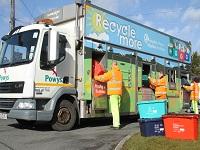 An application for the North Powys Bulking Facility's Environmental Permit is to be submitted to Natural Resources Wales.
Nearing completion, the newly built bulking facility in Abermule plans to receive the recycling collected from across north Powys, where it will be bulked and then transferred to processors to be recycled into new products
"Enabling material to be collected from the kerbside and bulked in this way ensures that we minimise our carbon footprint in line with the Welsh Government's circular economy aspirations." Explains Cllr Heulwen Hulme, Cabinet Member for Waste and Recycling. Having these facilities provides the infrastructure required to increase recycling rates, creating a more sustainable and better environment for future generations."
The Environmental Permit will allow the site to operate under closely controlled conditions and regulations. Facilities such as the North Powys Bulking Facility require complex bespoke permits which are assessed, issued, and monitored by Natural Resources Wales. Currently Powys County Council successfully operate two other similar sites under NRW Environmental Permits in Brecon and Rhayader.
Details of the application for the North Powys Bulking Facility will be available on the Natural Resources Wales website.