Brecon town centre road closures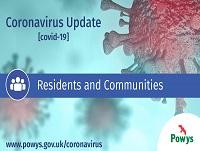 1 February 2021
Planned road closures on Struet and High Street Superior in Brecon have temporarily been suspended whilst the current Alert Level Four lockdown is in place.
Cllr Heulwen Hulme, Cabinet Member for Highways said: "There is no quick fix to recover from this global pandemic and we must accept that social distancing and the need for personal protection measures will be with us for some time.
"To ensure our local businesses remain viable we must do our best to keep everyone safe, allowing pedestrians and shoppers the space they need to stay safe and visit the town centres with confidence.
"To make sure our town centres remain both resilient and safe during the coronavirus pandemic, it has been necessary to find practical solutions to allow businesses to trade whilst ensuring social distancing measures can be maintained."
In Brecon, temporary coronavirus related road closures are in place on George St, Lion St and Castle St. However, the closures on Struet and High Street Superior have been suspended whilst the current lockdown is in place.
These will be reinstated when lockdown restrictions are lifted, with barriers being placed across the road between the new times of 12noon and 4pm each day. This part-time road closure allows enough space during the busiest part of the day to ensure safe social distancing can be adhered on the street, whilst still allowing time in the mornings and after 4pm for deliveries and other vehicles to use the road.
All the temporary road closures will only remain in effect whilst Welsh Government coronavirus restrictions are in place, with the town centre returning to normal when it is safe to do so.
"Together with the local Councillors, Powys County Council town centre liaison officers have been working with the Town Council, local businesses, and communities throughout this process. Their cooperation has been invaluable and very much appreciated." added Cllr Hulme.