More than 300 sign up to help out at 'capital of volunteering's' mass vaccination centres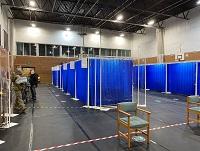 2 February 2021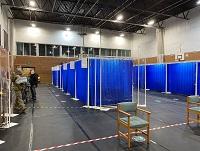 An army of volunteers is helping to make sure everything runs smoothly at Powys' three mass vaccination centres.
A total of 180 are on the rotas to help at the sites in Newtown, Llanelwedd and Bronllys, as the county, and country, face up to their biggest public health challenge in a century. And a further 132 are on standby to provide support if needed.
The fantastic response to the appeal for support from Powys Teaching Health Board (PTHB) was not unexpected though, as since the start of the coronavirus pandemic 1,689 new volunteers have been recruited in the county.
Spearheading this drive has been the Powys Association of Voluntary Organisations (PAVO), which has been working closely with PTHB and Powys County Council (PCC) to make sure support is available where needed.
All three bodies are keen to say thank you to everyone who has stepped forward - whether they have been helping at vaccination and testing sites or collecting medicines and food for vulnerable neighbours - for their help during the pandemic.
Carl Cooper, Chief Executive of PAVO, said: "We want to celebrate the work that has been achieved with the help of so many volunteers across Powys, in the past year. They have been among the many heroes of this pandemic, so far, and will continue to be for many more months to come.
"This county has a proud tradition of volunteering, and in fact I would go so far as to say that for many of our residents it is part of their psyche to volunteer and help out. The numbers we are able to recruit is incredible and makes Powys the volunteering capital of Wales."
Powys has the most charities per head of population, for any local authority area in Wales, with 16.8 charities per 1,000 people, the Wales Council for Voluntary Action reported in 2020.
It boasts 4,040 community and voluntary groups, 22,313 trustees and a further 26,346 volunteers in other roles, whose time is worth £129.1 million per annum. They manage to draw in £57 million worth of funding to the county and provide an economic boost of £173.6 million.
"The volunteers who have supported the health service in Powys in the last 12 months have been magnificent," said PTHB Chief Executive, Carol Shillabeer. "Whenever we have needed help it has been available.
"They have acted in a professional manner and have complemented the work of our paid members of staff, providing additional services which in turn free up our health workers to do what they do best which is to look after the health of their patients.
"In this pandemic we have had both key workers and key volunteers."
PCC's Portfolio Holder for Corporate Governance, Cllr Graham Breeze, added: "I have seen first-hand in my own community the great things that volunteers can help us achieve and that has been replicated right across the county during this pandemic.
"Many county councillors have also been right on the frontline of volunteering themselves - so they know what it takes - and I, and my colleagues, would like to say a massive thank you to everyone in Powys who has stepped forward. We couldn't have done it without you, and we will still need your support in the future."
If anyone would like to offer their services as a volunteer during the pandemic, or at any other time, they can contact PAVO on: 01597 822191 or go to the Powys Volunteer Centre on its website: www.pavo.org.uk
PAVO is also the organisation to go to if you are looking to recruit volunteers or if you want governance support for your own voluntary group.
Hundreds of volunteering opportunities can also be found on the Volunteering Wales website: volunteering-wales.net/