Community-led support in Knighton and District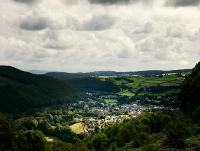 10 February 2021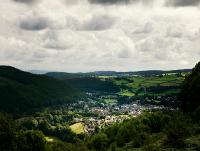 An innovative community-led project is being developed in Knighton and District, to try to make sure that everyone who needs help can find it, through sharing of information and skills.
The project funded by Arwain, the LEADER Programme in Powys, will be delivered by Knighton and District Community Centre and Library (known locally as The Comm), working closely with PAVO and existing information and support agencies in the area.
Dave Alker, Chairman of the Knighton and District Community Centre Management Committee, said: "The Comm, volunteers and other partners have done fantastic work supporting vulnerable people during the Covid pandemic, and we want to build on that for the future, to make sure that everyone who needs help knows how to get it.
"One of the charitable objectives of The Comm is to advance education and to provide facilities in the interests of social welfare, for recreation and leisure time occupation with the objective of improving the conditions of life for residents, and this project will be a prime example of delivering that, helping to build a stronger and more resilient community.
"The skills and training which the volunteers will receive will also help them with valuable experience for their CV or to maintain active lifestyles."
Volunteers will be recruited and trained to support the project in a number of ways, from delivering library books to housebound people, to helping people with IT skills and providing information and signposting them to specialist support where needed.
Working with PAVO's locality network, the project will update the community directory and make residents more aware of the services and support which are available to them in the area, through social media, marketing, and outreach work. Support and information will be provided in Covid-secure ways, with non-contact doorstep deliveries, telephone, and email responses.
Councillor Rachel Powell, Portfolio Holder for Young People and Culture, said: "I am absolutely delighted to see a community coming together in this way to make sure that everyone who needs help is included and supported.
"The Comm and Library are creating the conditions and providing support for local people to be confident, capable, and resilient individuals, who can then share their knowledge and skills with more people, building up the community capacity to help each other for the long term.
"This is the type of early intervention and prevention work, which will help to prevent people falling into crisis, reducing pressure on critical services."
Anyone interested in finding out more about the project, or volunteering to support it, is invited to contact the Knighton and District Community Centre team by emailing knightonhubcoordinator@gmail.com.