Brecon housing project nearing completion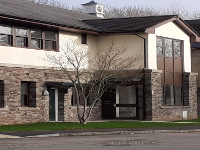 February 19, 2021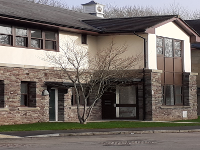 A housing development which will support independent living for four people is nearing completion in Brecon.
The Melin Homes project to convert the Brecon Law Courts offers three apartments for people who have support needs as part of the wider mix of provision within the building.
Pat Downes is Team Manager (Disabilities) within the Adult Social Care team. "We are very pleased to have been offered this opportunity by Melin Homes to provide this supported accommodation as part of their wider redevelopment of the building on Cambrian Close. This will be a tremendous opportunity for the people who move in to gain greater independence as part of the 'step-down, move-on' approach to care and will enable them to do this within their own community."
Councillor Myfanwy Alexander is Cabinet member with responsibility for Adult Social Care with Powys County Council and she explained: "'Powys County Council is committed to providing supported accommodation which allows people to live in their own communities and this project is an excellent example of collaboration to make this happen, providing local jobs into the bargain.'
Joanne Kirrane, Executive Director, People, Homes and Communities at Melin Homes said: "Working collaboratively with Powys County Council has enabled us to build much needed supported accommodation for four residents. We are very proud of the development and look forward to the residents moving in, enjoying their new homes, and seeing the difference this development will make to their lives."
The care and support will be provided by Cartrefi Cymru and will create new jobs in the Brecon area.