Council housing on the way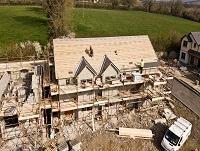 24 February 2021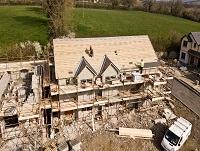 More than 100 new council properties are under construction with a combined contract value of over £20m, the county council's cabinet will be told next week.
The council has an ambitious target of building 250 new homes by 2025 as part of its Vision 2025 Corporate Improvement Plan.
Cabinet Member for Housing, Planning and Economic development, Councillor Iain McIntosh said: "The council has a target of providing 250 new homes by the end of 2025 and is already making excellent progress with development plans for 227 properties already in place and work under way on 118 homes.
"We have 32 units under construction in Brecon, 26 units in Newtown, 22 units in Llanidloes, seven in Sarn and are just about to start work on 18 properties on the former Red Dragon site in Newtown which will help address the rising demand in the county for affordable homes.
"Although no Powys company has been successful in winning the main contracts, which have a combined value of more than £20m, the programme is providing huge benefits to the local economy through the use of Powys sub-contractors.
"The work has seen 35 sub-contractors appointed, 31 of which are Welsh-based and 14 Powys-based, creating work for more than 70 people. A number of training, education and apprenticeship opportunities have also been delivered along with a range of community benefits planned for individual sites.
"We are confident that despite the impact of COVID-19 we will deliver the first council homes for a generation this Spring," he added.