Road safety improvements to begin on Llanidloes Road, Newtown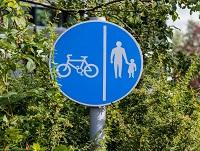 8 March 2021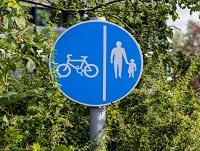 Works to extend the path on Llanidloes Road in Newtown to the college and theatre are due to begin next week, 15 March 2021.
Funded by Welsh Government, these improvements will complete the main Active Travel routes within the town, previously identified in consultations with residents, businesses and local communities. These Active Travel routes in Newtown will provide a safe network of routes for all users, including vehicles, pedestrians and cyclists.
As part of the planned improvements, the path under Nantoer Bridge will be widened, significantly reducing the safely risk for pedestrians and cyclists (particularly young people walking to and from the college).
This will be achieved by using one of the existing traffic lanes to create the extra wide pavement. The carriageway will be reduced to one lane, with two-way traffic controlled by programmed traffic lights.
To improve the road safety on the approach and under the bridge, the speed limit will be reduced from 40mph to 30mph.
Cllr Heulwen Hulme, Cabinet Member for Highways, said: "We are really pleased to be able to start work on these safety improvements on Llanidloes Road. The work will make it significantly safer for pedestrians and cyclists using the shared use footpath under Nantoer Bridge to get to and from work, college and for leisure activities.
"The introduction of traffic controls and a 30mph speed limit to the road will also make it easier and safer for the residents to leave and enter their properties, as well making it easier to join and leave Llanidloes Road and reduce air and noise pollution levels.
"It will take approximately six to eight weeks to complete all these improvements. Whilst the works are taking place, there will be temporary traffic lights in place. Any disruption will be kept to a minimum, but we thank you in advance for your understanding and patience whilst these safety improvements are made."