Please only visit your Household Waste and Recycling Centres if really needed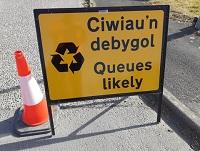 10 March 2021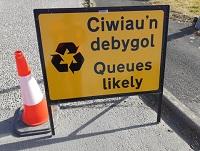 Residents are reminded that visits to the Household Waste Recycling Centres should currently be for essential reasons only.
Since the beginning of the year, the number of residents regularly visiting the Household Waste Recycling Centres (HWRCs) has steadily increased, with a number of the sites experiencing large numbers of visitors and long queues of traffic waiting to get in.
If there are too many people waiting to enter the site, especially towards the end of the day, you may be asked to return at a quieter time to avoid causing disruption to the highway and local communities.
Many of these visitors are bringing materials which can easily be recycled through the weekly kerbside collections, such as glass bottles and jars, paper and card.
Please remember, that whilst Covid restrictions and social distancing regulations remain in place, the number of cars and people allowed at the HWRCs is limited and staff on site cannot help unload or carry items under any circumstances.
"We understand that the Covid restrictions seem to have been around for ages." Says Cllr Heulwen Hulme, Cabinet Member for Recycling and Waste.
"We also understand that we are all beginning to get fed up and frustrated with them, us included. But it is important to remember that we are still in the midst of a global pandemic and that we must try and ensure that all our hard work and sacrifices have not been in vain, by sticking to the rules while they remain in place.
"It is important to make the most of your weekly kerbside recycling collections and only visit the HRWCs if you have material which cannot be recycled in this way or kept safely at home until restrictions are eased.
"Please think carefully before you decide to visit the HWRCs. Non-essential use puts yourself, other members of the public and our staff at risk from spreading the virus."
If you need extra recycling boxes to help with any additional recycling at home, you can order more online www.powys.gov.uk/newbinsandbags