Improvements for Powys' Countryside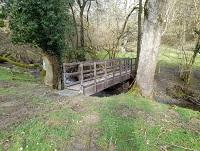 12 March 2021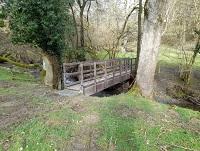 Two bridges in Powys have been improved thanks to funding from Welsh Government, the county council has said.
A programme of countryside access improvement work, funded by the Welsh Government Access Improvement Grant, has allowed two footbridges near Gladestry to be replaced, following concerns over the ageing of the old timber.
Powys County Council has worked closely with local contractors M.F. Price and R.F. Price, at sites near Court of Gladestry and near the county boundary, between Gladestry and Upper Hergest, to remove the old timber bridges and replace them with new kit bridges made using FRP and recycled plastic.
With the support of Welsh Government funding, the council's Countryside Services could make use of more durable and sustainable materials rather than opting for traditional treated softwood; this gives the bridges a significantly longer lifespan, and with inbuilt anti slip surfaces these bridges provide a high-quality replacement for many years to come.
The cores for the decking, posts and rails have also been constructed using recycled plastic bottles, preventing them from being sent to landfill.
Cllr Heulwen Hulme, Cabinet Member for Countryside Services, said: "We are grateful to Welsh Government for their support in helping us maintain and improve our countryside and public rights of way.
"Powys has such a beautiful and thriving countryside and these improvements will only help add to this and make it easier for our residents to access.
"It's important that we ensure that Powys' countryside is kept maintained and available for all."