Sarn social housing development almost finished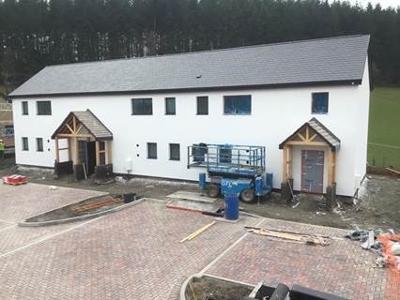 16 March 2021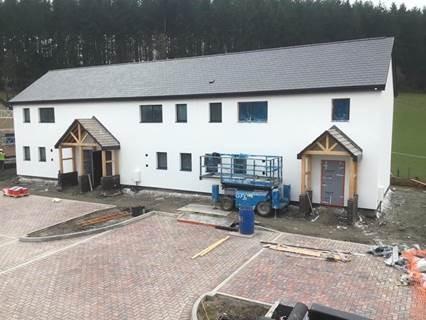 Work on a new, low-energy social housing development in north Powys is nearing completion, the county council has announced.
The seven-property development is being built in Sarn, near Newtown and will be the first social housing scheme in Powys to achieve Passivhaus certification - one of the highest energy efficiencies possible for a house.
The scheme has been developed by Powys County Council's Affordable Housing Team and will help the council deliver one its aims of Vision 2025 - to build 250 new homes by 2025.
The development, being built by contractors Pave Aways, consists of four two-bedroomed bungalows, two two-bedroom and one three-bedroom houses.
Cllr Iain McIntosh, Cabinet Member for Housing, Planning and Economic Regeneration, said: "I'm delighted that this ground-breaking housing development is nearing completion.
"They are being built to the exceptionally low-energy Passivhaus standard which will help to cut carbon emissions while tenants will have lower energy bills.
"The council is making real progress with its ambitious target of delivering 250 new homes by 2025 and this scheme contributes to that target. The scheme has also provided a boost for the local economy with local sub-contractors and the supply chain being supported by the work."
Pave Aways Managing Director Steven Owen said: "To have been able to deliver this ground-breaking project has been a privilege. This development sets new standards for social housing in Powys and beyond and will raise the bar for future developments.
"It is undoubtedly the way forward for new housing stock and is an important step in tackling issues around climate change and fuel poverty. From an industry point of view, it's been a valuable learning curve for our team and sub-contractors, bringing new skills to the region."
The scheme has also brought additional benefits for Powys with more than £1.1m spent locally, 10,500 hours of work provided on site and 4,900 hours spent on apprentices and training time through its employees and the supply chain.
Steven added: "One of our priorities is to ensure that our projects have a wider reaching effect than just an economic one and the delivery of these new homes has had many benefits for the community in Mid Wales that will have a lasting legacy. New skills learned, training delivered and support to community groups have been just some of the side effects of this build."