Welsh-medium childcare course to be offered at Powys sixth forms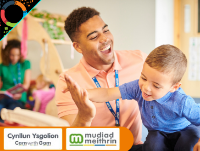 17 March 2021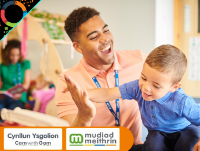 A childcare vocational course, which will be delivered through the medium of Welsh, is to be offered at sixth forms across Powys in the next academic year, the county council has announced.
Powys County Council is working with Mudiad Meithrin and the county's sixth forms to offer a Welsh-medium BTEC Level 3 course in Children's Care, Play, Learning and Development: Practice and Theory from September 2021. This qualification is equal to two A levels.
This qualification is suitable for everybody who wants to work in childcare, learning or developments settings or services in Wales. It enables students to develop the knowledge and skills needed to work or continue their studies in the field of childcare.
Those who register for the two-year course would be based at their local sixth form three days a week as the course will be delivered through the e-sgol blended learning initiative. The remaining two days a week would see students on placement within a Welsh-medium Early Years setting or a local Cylch (Welsh medium nursery) setting.
Cllr Phyl Davies, Cabinet Member for Education, said: "I'm delighted that we are working with our sixth forms and Mudiad Meithrin to provide this Welsh-medium vocational course.
"Two of strategic aims as part of our Strategy for Transforming Education in Powys is to improve learner entitlement and experience for post-16 learners and to improve access to Welsh-medium provision across all key stages.
"Not only are we meeting the aims of our strategy by providing this course, hopefully it will meet the gap in skills and recruitment that Welsh-medium education settings currently face."
Welsh-medium pupils in their final year of GCSEs can find out more about this qualification by visiting www.powyslearningpathways.wales