More than 8,000 voluntary hours given in support of Powys' mass vaccination centres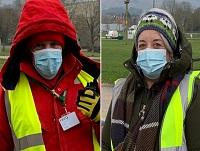 19 March 2021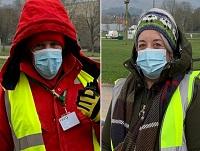 Volunteers, acting as way-finder marshals at Powys' three mass vaccination sites, have given more than 8,000 hours of their time in less than three months.
Between 8 December 2020 and 27 February 2021, they spent 8,064 hours supporting health workers at Bronllys, Llanelwedd and Newtown.
Powys Teaching Health Board has been leading the effort at the three sites, with volunteers, provided by Powys Association of Voluntary Organisations (PAVO), offering support.
As many as 80 volunteers a day have been on duty at Bronllys, Llanelwedd and Newtown, between 8am and 9pm, and are usually deployed in shifts lasting around two hours. Some volunteers work multiple shifts.
If the volunteers had been paid for their time, at the National Living Wage rate (25 and over) of £8.72, it would have cost more than £70,000, plus on costs (additional costs for an employer such as pension contributions) to provide this service.
Carl Cooper, Chief Executive of PAVO, said: "The volunteers have been absolutely inspirational and so has the partnership working between the voluntary sector, Powys Teaching Health Board and Powys County Council, which is delivering better outcomes for the county's residents.
"Volunteers have made a real difference to the mass vaccination programme. Their service has been invaluable, but they have also helped to keep spirits up and to put nervous patients at ease.
"Volunteers are also benefitting from the experience and are leaving the mass vaccination sites with smiles on their faces. They feel good about helping others and, in turn, it is improving their own mental health."
Adrian Osborne, Powys Teaching Health Board Assistant Director of Engagement and Communication, said: "The volunteers have been fantastic, and I really want to thank them for everything they have done to support the effort to get as many people in Powys vaccinated against Covid-19 as quickly as possible.
"In Powys, the health board and the community are delivering the mass vaccination programme together."
PAVO has more than 300 volunteers available for deployment at the mass vaccination centres but is not currently recruiting any more.
Carl Cooper said: "Due to the huge response from the community, this volunteering opportunity is temporarily closed, but we will be setting up a reserve list soon for people who would like to help out as a way-finder volunteer in the future."
There are, however, lots of other opportunities to help as a volunteer in Powys. Find out more by contacting PAVO: 01597 822191 / volunteering@pavo.org.uk or go to the Powys Volunteer Centre on PAVO's website: www.pavo.org.uk
PAVO is also the organisation to go to if you are looking to recruit volunteers for your organisation or within your community, or if you want any help for your voluntary group or organisation.
Hundreds of volunteering opportunities can also be found on the Volunteering Wales website: volunteering-wales.net/