Information board installed in churchyard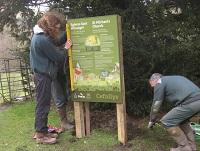 22 March 2021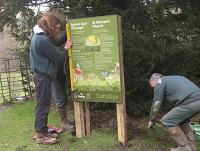 A new information board that tells the history of an ancient settlement has been installed in a mid-Powys churchyard.
The information board has been installed at The Church of St. Michael - Cefnllys near Llandrindod Wells. It provides information on the site's history as well as the local wildlife.
Radnorshire Wildlife Trust have installed the board thanks to funding from Powys County Council as part of the Welsh Government's Access Improvement Grant programme. The board was designed by Jon Dixon of Anglezarke Dixon Associates.
The churchyard, which has part of the Heart of Wales Line Trail route passing through it, will soon have seating and a wild-flower area installed as part improvement plans which has seen the boundary wall repaired and views for the local landscape opened up.
Nigel Brinn, the council's Corporate Director for Economy and Environment, said: "This ancient site and its beautiful setting is much loved by local people and is a stop along the Heart of Wales Line Trail, which passes through this church.
"I'm delighted that we have been able to provide funding for this information board, not only will it provide visitors with a glimpse into the area's past but also information of the local wildlife that can be found nearby.
"This project is a great example of the local wildlife trust and the county council working together for the benefit of wildlife and the public."