Ysgol Calon Cymru appoints permanent headteacher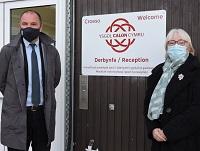 23 March 2021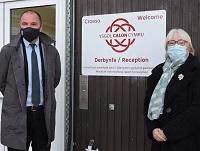 Ysgol Calon Cymru have appointed a permanent headteacher, it has been announced.
Following a one-day interview process, the Governing Body of Ysgol Calon Cymru are delighted to announce the appointment of Dr Richard Jones as the school's permanent headteacher.
Dr Jones, who has been temporary headteacher at the school since January 2020, started his career as an English teacher and has held a wide range of leadership positions across three contrasting secondary schools in South Wales.
Most recently, he has spent two years as an Education Advisor for the Welsh Government. In this role, he worked closely with a range of partners, leading and contributing to the ambitions of the National Education Mission for Wales.
Sharon Hammond, Ysgol Calon Cymru's Chair of Governors, said: "I'm delighted to confirm Richard's appointment as the school's permanent headteacher. His appointment provides certainty to the school, its staff and pupils and allows us to implement the positive changes that we have planned for the school at pace.
"Myself and the rest of the governing body look forward to continuing our working relationship with Richard as we work together to build on the school's existing strengths and further develop the potential of pupils and staff while continuing to embed high standards of achievement and behaviour."
On his appointment, Headteacher Dr Richard Jones, said: "My mission as Headteacher of Ysgol Calon Cymru is a clear one - to ensure that our school thrives and grows in a sustainable way, with our pupils always at the center of all we do.
"Ysgol Calon Cymru has had its share of challenges. However, those challenges have not, and do not, dampen the school's spirit. As our name suggests, we are a school with heart; and it is that heart that fuels the vibrancy, generosity and talent that I am proud to be part of.
"Our school is moving forward in the right direction, and most importantly, moving in the right way. We are at an exciting point in our development, and it is a privilege to lead Ysgol Calon Cymru into the future."
Lynette Lovell, Powys County Council's Interim Chief Education Officer, said: "I would like to congratulate Richard on his appointment as permanent headteacher of Ysgol Calon Cymru.
"I look forward to working with Richard as the school and council work together to improve outcomes for our learners and I wish him all the best."