Damage caused to newly installed traffic calming structures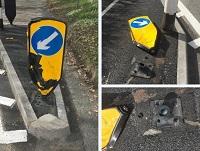 24 March 2021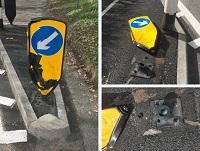 Potentially malicious and intentional damage caused to newly installed traffic calming structures in Whitton, has been reported to the police, Powys County Council confirms.
The new measures have recently been introduced to the B4357 in Whitton following information from Dyfed Powys Police and consultation with the local community council. During a nearby speed monitoring exercise, the police noted that drivers were not complying with the mandatory stop signs and lines at the crossroads, which is the site of several previous accidents, including one resulting in a fatality.
The same traffic calming layout has been used successfully in a number of locations throughout the county to reduce the speed of traffic and improve safety for all road users.
"We are extremely disappointed to hear about the potentially deliberate damaged caused to the new safety structures in Whitton." says Nigel Brinn, Powys County Council's Corporate Director for Economy and Environment. "Installations such as these are intended to improve safety for all road users and are introduced after a consultation with the local community council and as part of our road safety schemes.
"Following this incident, which was reported to us by a member of the public, we have had to make the site safe and will be looking to repair the damage, all resulting in additional resources and costs to the taxpayer.
"We encourage anyone with any information regarding the damage to contact the police to help them with their enquiries."