Volunteering in Newtown features on International Relations Today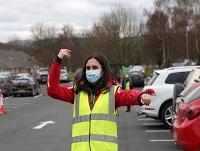 29 March 2021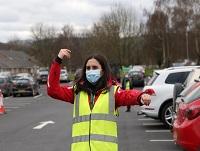 Volunteering at the mass vaccination centre in Newtown features in a blog written for the website International Relations Today.
Grace Moucharafieh has described her experience of helping as a way-finder marshal at the Maldwyn Leisure Centre site, where she says every effort has been made to "make the vaccination experience as welcoming as possible".
Grace is a second-year BA International Relations student at King's College London, who grew up in Beirut, Lebanon, but has strong ties to Montgomery, where her mum, Ruth, is from and lives.
She says the personal benefits of volunteering "far outweigh their positive impact on the community" and adds: "The signing away of your free time to direct cars in a car park or tell people to follow the dots on the floor gives something important back to those who sign up for it; their sanity."
Grace says she is passionate about journalism, art, volunteering and human rights, and is the North Africa editor of International Relations Today because she says she is interested in "global politics and producing accurate coverage of areas that do not always have the best portrayal in the media (the Middle East, North Africa etc.)".
She says of the volunteering experience: "At the Newtown mass Vaccination Centre volunteers give out sanitiser, direct people through the centre, wipe down surfaces and meet every patient with a warm smile and welcoming words. In truth, these tasks may seem mundane, but their collective impact is bigger than these tasks alone. The national vaccination effort is an incredible machine where all the tiny cogs come together to form something almost magical through interactions that make your heart swell."
Grace is also one of the volunteers, who along with her mum and an RAF serviceman painted the shed, outside the Newtown Mass Vaccination Centre, bright pink and included cartoons of covid vaccines and a welcome in English and Welsh.
Aled Morgan, Support Services Manager at the site for Powys Teaching Health Board (PTHB), said having the volunteers there has been a "massive help" and added: "All the volunteers want to be there, and they want to make a difference. They have been paramount to the success of the operation."
He said the volunteers deployed in the car park had been given a shed to provide "weather protection" and said of its redesign: "I think it looks brilliant and adds a bit of colourfulness to the whole thing."
Amanda Willday, PTHB's Business Support Manager for the Newtown Mass Vaccination Centre, said the volunteers had wanted to create something that created a "visual impact" for people arriving, before they enter the building, and said the pink shed is proving to be a popular talking point.
She said volunteers have also played a crucial role in "putting people at ease" before having their vaccinations.
PAVO is recruiting more volunteers for the Mass Vaccination Centres at Llanelwedd and Newtown.
All volunteers will complete a risk assessment, be DBS checked, and complete a small programme of basic training.
If you are interested, please register on the Volunteering Wales website by following the links below:
Llanelwedd: https://powys.volunteering-wales.net/vk/volunteers/my_opportunities_info_ur.htm?pID=10170754
Newtown: https://powys.volunteering-wales.net/vk/volunteers/my_opportunities_info_ur.htm?PID=10170738
Once you have registered you must go back onto the link and apply for the opportunity. It will ask you for two references - name and email - and that will get you linked to the opportunity.
It is best to do this process on a PC rather than a mobile phone.
Once you have registered, you will be sent an email detailing the next steps.
Help and support to register as a volunteer is available from PAVO. Please email volunteering@pavo.org.uk or ring 01597 822191.