Council and Care & Repair in Powys work together to tackle falls in the home.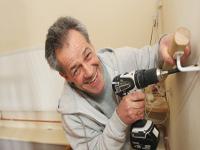 April 13, 2021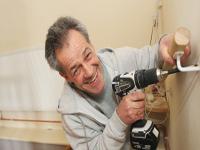 Are you struggling to manage your stairs, get on and off the toilet, be able to bath or shower or get in and out of your house safely? Are you worried about falling when doing these activities? If you are then please don't hesitate to get in touch with Powys County Council or Care & Repair in Powys for help.
The Council's Adult Social Care team or its partners Care & Repair in Powys can help identify equipment or adaptations which may help you continue to live independently at home - whether you live in council housing, privately owned or privately rented accommodation.
Diane Whittingham, a Lead Occupational Therapist with the council commented: "We're still here to help. We are working differently now - being based at home - but don't hesitate to get in touch and we'll see what we can do."
"We work closely with our colleagues at Care & Repair and they can fit equipment such as grab rails, half steps or stair rails in your home in a Covid-19 secure way," added Diane.
It is also a good idea to remove mats, rugs and other items that could cause a fall. Also, ensure all rooms, passages and staircases are well lit and wear well-fitting shoes or slippers that are in good condition and support the ankle to decrease your risk of falls further.
Debbie Brooks is Casework & Service Manager with Care & Repair. She explained: "We are aware that some people may be at increased risk of falling because they may have delayed seeking help during the pandemic but, just like the council, we're here to help."
Ms Brooks explained that for help with smaller adaptations such as the installation of rails or the levelling of paths, Powys residents should contact Care & Repair in Powys directly on 01686 620760 or by emailing enquiries@crpowys.co.uk.
However, for larger scale alterations, such as the installation of stair lifts or or making your bathroom easier to use, Powys residents should contact the council's ASSIST team on 0345 602 7050 or by contacting the team online at https://en.powys.gov.uk/article/6948/Contact-Assist-Online.
Another way of finding out what help and support available is via the free AskSARA website. This is an online resource which can signpost you to organisations - or indeed equipment - which can make independent living easier. You can find out more at https://powys.livingmadeeasy.org.uk/