Powys' economy reopens for business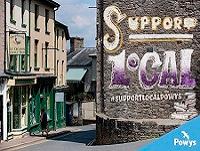 14 April 2021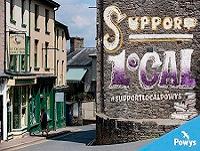 After months of strict lockdown, Covid restrictions in Powys continue to ease which has seen significant changes in recent days.
Some of the most notable since 12 April include the reopening of non-essential retail and unrestricted travel across the Wales-England border.
Powys County Council is pleased to welcome visitors back to enjoy the county's beautiful outdoors, but work continues to help keep the people of Powys, and those who visit, safe.
People are being urged to visit in a responsible manner and treat communities with respect by taking litter home and following the countryside code.
Some changes are the same on both sides of the Wales-England border but there are some differences which are worth noting to avoid confusion.
The two most notable differences are gyms and leisure centres reopening in England but remaining closed in Wales, and pubs and restaurants in England serving food and alcohol outdoors, but not those in Wales.
In what is a positive step forward for the county's economy, non-essential shopping has resumed with many business owners experiencing a busy reopening week.
The council's message to residents and visitors is clear - please support local businesses wherever you can.
Shoppers are still required to keep their distance, use hand sanitiser and wear face coverings (unless exempt).
Some temporary road closures and parking changes have been introduced in certain areas to allow for better social distancing in the town centres.
Nigel Brinn, Corporate Director of Economy and Environment, said: "We want to thank everyone in Powys for their exceptional efforts in respecting social distancing and helping us fight the virus.
"It's been a long hard winter for all of us, but summer is now around the corner and we can all hopefully start to feel more positive.
"Understandably people will be enjoying a greater sense of freedom now, so we can expect Powys' many beauty spots to get busier.
"Supporting tourism and rebuilding our local economy is vital, but we must also keep people's safety at the forefront of our minds as we start to venture out.
"We ask everyone to be patient, to avoid busy crowds, and not to put unnecessary pressure on public services in what are still challenging times.
"Over the past few months Covid cases have declined thanks to residents' adherence to social distancing rules, combined with a highly successful vaccination programme led by health board colleagues. But crucially, we are not back to pre-Covid times and the risk of infection remains.
"Our first priority throughout this pandemic has been to keep the people of Powys safe, and we all have an ongoing part to play in that."
From Monday, 26 April, outdoor hospitality will resume for pubs, restaurants and cafes.
From Monday, 3 May, gyms, leisure centres and fitness facilities will be able to reopen for individual or one-to-one training. Extended households will also be allowed, with two households able to meet indoors.
For the latest on Covid regulations in Wales, please visit: https://gov.wales/coronavirus