Social care commissioning team shortlisted for national award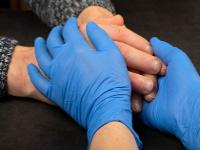 April 16, 2021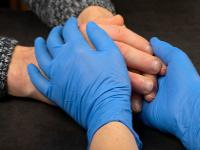 The Commissioning and Contracts Team within Powys County Council's social care service has been nominated and shortlisted for a national award for their response to Covid-19.
Go Awards Wales are designed to highlight best practice in public procurement and the competition is organised by BIP Solutions and the Realising Dreams Foundation with backing from Welsh Government. Television presenter Sian Lloyd will be hosting the online ceremony on April 29th, when the Powys team will line up in the 'COVID-19 Outstanding Response Award - Other Organisations' category against eight other finalists.
Dylan Owen is Head of Commissioning with the council and he welcomed the news: "I'm delighted that the work of our team has been recognised by the shortlisting judges. The pandemic has been an extremely challenging period for the whole social care sector and I am so proud of the way our team has supported those that we commission services from, such as in the residential and homecare sectors."
The team's response included:
- In the early months of the pandemic daily support calls to providers were made to check on resources and staffing pressures;
- Risk assessments were carried out 10 days before the country went into lockdown and business continuity plans were reviewed. Online surgeries were provided to help providers strengthen these plans;
- Infection/prevention advice was offered to all residential homes and homecare providers;
- PPE was, and continues to be, provided via the council;
- A weekly Skype meeting was held by the team to ensure that communications with the whole sector was up to date. This was backed up with a weekly email bulletin setting out the latest procedures;
- Payment for planned care - rather than actual care delivered - was agreed with providers and Welsh Government money was used to pay for empty beds in care homes in a bid to ensure that the sector was sustainable. This support continues today;
- Significant work was done with care homes with staff deployment, volunteer and financial support.
Mr Owen added; "Now we look forward nervously to the finals ceremony but, whatever the result, I'm really pleased that our team has been recognised in this way."
The council's Commissioning Team is joined in the category's shortlist by:
- Domestic Abuse Safety Unit North Wales
- Emma George Consulting
- Groundwork North Wales
- Public Sector Broadband Aggregation (PSBA)
- South Wales Fire & Rescue Service
- Swansea Council
- The Media Angel, Swansea University
- Welsh Government, NHS Shared Service Partnership, Industry Wales, National Procurement Service, Life Sciences Hub, & the Surgical Materials Testing Laboratory
More details about Go Awards Wales can be found at https://www.goawards.co.uk/wales/