There's still time to sign up to the popular garden waste collection service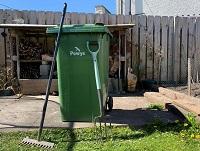 22 April 2021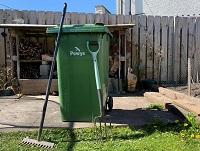 Spring has arrived, the sound of lawn mowers is in the air and more residents than ever are taking advantage of the council's garden waste recycling collection service.
For those busy gardeners who haven't yet subscribed to the 2021 garden waste recycling collection service, there is still time to sign up.
For just £37 for the 2021 season, the service is an easy, clean and simple way of getting rid of your garden waste, with the knowledge that it will all be collected, recycled and turned into compost.
The season fee includes the hire of a 240-litre wheeled bin and fortnightly collections of your garden until 3 December. A smaller 120-litre bin is available at a reduced rate for households with small gardens, or compostable garden waste sacks for those who have their residual rubbish collected in purple bags.
Subscribers for the 2021 season will receive a sticker with their collection dates which should be placed on your green wheeled bin to help indicate to the crew that you have signed up this year. New subscribers to the service will have their green wheeled bin delivered within 10 working days, so make sure you sign up early to benefit from as many collections as possible.
We will re-contact residents who have yet to resubscribe and for those who no longer wish to continue with the service, we will collect their bins shortly.
"We understand that we are all leading very busy lives and sometimes resubscribing to services such as the garden waste recycling collection, can slip our minds." explains Matt Perry, Head of Highways, Transport and Recycling.
"That is why we always give our customers a couple of weeks grace when it comes to collections. All presented garden waste bins are emptied for the first couple of collections to give our residents the benefit of the doubt and allow them the time to resubscribe for another season in their own time.
"However, it is unfair on our paying customers to continue to empty the bins of households who decide not to resubscribe to the service. After a series of reminders, if the seasonal fee is not paid, we will arrange for the bin to be collected, cleaned and redistributed to customers who wants to begin taking advantage of the service."
The number of subscribers to the service this year is higher than ever, with more people taking advantage of having their garden waste collected from home. Residents not subscribing to the service will still be able to compost their garden waste at home or take it to one of the five household waste recycling centres in Powys.
You can subscribe now by visiting www.powys.gov.uk/gardenwaste or by calling 01597 827465. If you need a reminder of your collection day, please visit www.powys.gov.uk/binday