Hospitality sector reminded of safety measures as it reopens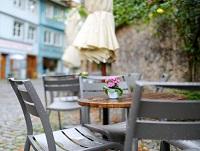 28 April 2021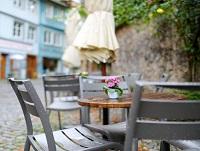 Hospitality businesses across Powys are being reminded of their responsibility to keep customers and staff safe as they reopen for outdoor service.
After months of closure, outdoor cafes, pubs, and restaurants can reopen in Wales from Monday 26 April.
The council is working with businesses and communities throughout the reopening period to ensure the correct safeguards are in place to help control the spread of Covid.
Premises are still required by law to ensure the appropriate measures, such as social distancing and the use of suitable PPE, are maintained.
Covid risk assessments should be updated where necessary and all staff members should be made aware of the control measures in place.
Due to the prolonged closure period the council is urging businesses to check their water systems for possible stagnation, as a lack of use can increase the risks of Legionnaires' disease.
Similarly, equipment stored or unused for long periods of time should also be checked for any damage or deterioration.
Gwilym Davies, Head of Property, Planning and Public Protection, said: "It's great to see so many local hospitality businesses trading again after a long wait.
"Understandably many people will be looking forward to their first meal or drink out in months, which they should quite rightly enjoy.
"But for the sake of people's safety we have to stress the importance of sticking to the guidance and not getting complacent.
"Our Public Protection Team are here to help if businesses need some support so do not hesitate to get in touch.
"Using enforcement action is always a last resort for the council, but where premises are non-compliant we will issue improvement and closure notices if the situation requires it."
Help and advice for businesses can be found at: www.powys.gov.uk/coronavirus/helpforbusinesses
Detailed guidance on Legionella risks can be found on the HSE website: https://www.hse.gov.uk/coronavirus/legionella-risks-during-coronavirus-outbreak.htm