Paw prints lead Powys dog owners to the bin...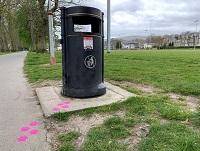 4 May 2021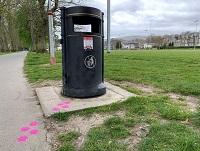 Eye-catching paw prints are popping up around the county, leading the way to the nearest bin, as a reminder for owners to clean up after their dogs when out on a walk.
While most dog owners are caring, responsible individuals, there are still some people who do not clean up after their pets, leaving the streets and open public spaces in Powys prone to dog fouling.
Powys County Council's latest campaign is a subtle reminder that dog poo should be bagged and binned - any public litter bin will do, just make sure it's picked up and put it in a bin every time.
"Dog mess is the most unacceptable and offensive type of litter on our streets and open spaces and feedback from Powys residents tells us that dog fouling is the issue the public are most concerned about." explains Nigel Brinn, Powys County Council's Corporate Director for Economy and Environment.
"Our waste awareness and enforcement team are busy out and about adding signs and engaging with dog owners, whilst our street cleaners are doing their best to clean up after the irresponsible few who refuse to take responsibility for their own pets.
"This latest campaign aims to encourage dog walkers to use bins to dispose of dog waste, and to reduce the incidents of fouling and the clean-up costs related to this anti-social behaviour.
"The non-toxic-biodegradable chalk-based paint used to create the colourful paw prints will wash away safely after a couple of rain showers, but hopefully the sentiment of continuing to use the bins after they have disappeared, will remain."
The campaign to reduce dog fouling is part of the Caru Cymru project, a Wales wide initiative to eradicate litter and waste and inspire everyone to take action and care for the environment.
Anyone who fails to clear up after their dog can be fines of up to £1,000. To report incidents of dog fouling in your areas, please visit: https://en.powys.gov.uk/article/4511/Report-dog-fouling