Powys campaign to drink more water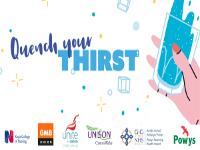 May 7, 2021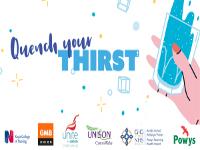 A campaign to encourage people in Powys to drink more water is being launched by public sector organisations, unions, public figures and sports people.
The Powys Hydration Campaign is aiming to increase the amount of water (and other non-sugary drinks) consumed by the county's residents with a view to reducing pressure on the NHS.
The campaign, which goes live on social media this week is being backed by Powys County Council, Powys Teaching Health Board, Unison, Unite, GMB and the Royal College of Nursing.
Ali Bulman is Corporate Director with responsibility for social care with the county council and she explained: "Good hydration is paramount at all ages. I've seen so many instances where people in their later years suffer from urinary tract infections which can make people really poorly and often end up in hospital and one of the main causes for this is that they are not drinking enough. The more we can get in the habit of keeping hydrated, the fewer people will end up in hospital and the less pressure there is on NHS staff to treat patients with Covid-19 and other illnesses."
Carol Shillabeer is Chief Executive of Powys Teaching Health Board. She commented: "As a nurse, I am so aware of the importance of making sure we drink enough every day. It is so easy to get distracted and to forget to drink regularly. I like to keep a water bottle on my desk and would encourage others to do so. I would also ask that we all look out for vulnerable people around us and help others to stay hydrated."
"It is important to understand how drinking water can have a positive effect on your health and well -being," said Mick Hutchinson, Branch Secretary, GMB Union Powys. "Water is the most important and valuable resource for us and drinking water is essential to a healthy lifestyle and your body will thank you. GMB encourage you to look after yourself."
"Nurses and health care assistants know better than most the importance of adequate fluids and nutrition," said Senior RCN Officer, Derek Browne. "They also know the consequences of going without, it is essential that nursing staff take care of themselves in order to care for their patients. It's been really positive working with Powys Teaching Health Board in support of the RCN's Rest, Rehydrate, Refuel work as part of the Healthy workplace, healthy you campaign. As part of this campaign, we are encouraging health and social care managers to ensure staff are taking their at-work breaks, are well hydrated and have access to nutritional food."
John Byrne, UNISON Branch Secretary added; "Unison supports this campaign and recognises the importance of remaining hydrated for all. Mental Health and Well-Being is so important in these unprecedented times and is collaboratively working with many employers ensuring safe good practice is in place for all."
Wendy Stuart is Branch Secretary for Unite the Union. She commented: ""Keeping hydrated is so important for our physical and mental health, so drink your way to better health - drink water!"
Symptoms of mild dehydration include a dry mouth, headaches and poor concentration. When the body detects that more water is needed the first thing that happens is that the kidneys reduce the amount of water lost in the urine. You can tell, by the colour of your urine, if you're becoming dehydrated. If it gets darker than a pale yellow or straw colour, the chances are you are becoming de-hydrated. Thirst is also an important signal - if you're becoming thirsty then listen to your body and quench that thirst.
You can find out more tips for healthy hydration from:
- British Nutrition Foundation - https://www.nutrition.org.uk/healthyliving/hydration.html