Former council building demolished ready for housing development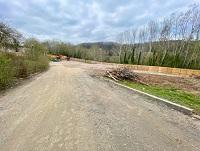 5 May 2021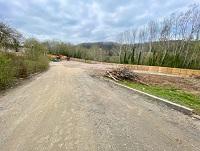 A former council building has been demolished ready for a future housing development to be built, Powys County Council has said.
Robert Owen House in Newtown has been successfully demolished by local construction firm EvaBuild Ltd. The building had housed council offices and supported accommodation before it closed in 2019.
The land the building occupied will be developed by the council's Affordable Housing Team to provide new council homes.
Nina Davies, Head of Housing and Community Development, said: "We have an ambitious target of building 250 new homes by 2025, a key priority in our Vision 2025 Corporate Improvement Plan, and we're making real progress.
"The site that the Robert Owen House occupied is going to be important as we continue to work towards achieving this ambitious target.
"We want to build affordable homes and are currently developing plans.
"The demolition work is just the first stage in preparing the site for this exciting project.
"Before a planning application is submitted, we will hold a pre-application consultation to give the local community an opportunity to have their say on the plans."