Olympics rugby referee says sports development work has helped his career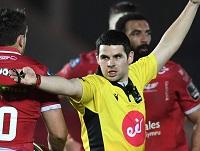 6 May 2021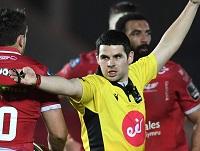 A rugby referee, who is off to the Olympic Games this summer, says his career has been helped by his work for Powys County Council's Sport Development Department.
Adam Jones, who is a sport and active community development officer in the Llandrindod Wells and Builth Wells areas, will officiate in the Women's Rugby Sevens competition at the delayed 2020 Tokyo Olympics from 29 to 31 July. And will also be refereeing at the World Rugby Sevens Repechage in Monaco on 19 and 20 June, which is the final Olympic qualification event.
Adam is one of 22 rugby match officials who have been selected to travel to Japan.
He has previously refereed in front of 80,000 spectators, in a converted baseball stadium, at the Rugby World Cup Sevens 2018 in San Francisco and closer to home has officiated in the European Challenge Cup and the PRO14.
Adam has been employed by the council for four years and currently works two days a week as a sport development officer, based at Ysgol Calon Cymru, and three days a week with the Welsh Rugby Union (WRU).
He said: "Both roles pretty much go hand-in-hand. You have got to be authoritative with the players on the pitch and the pupils in school. So, it's a case of finding that right balance between the communication side of things - and not being too bossy - while gaining the respect of both the players and the kids.
"I really enjoy doing both roles, because I can switch off from rugby on a Monday morning knowing the kids at school or the sports club often have no idea how the game went at the weekend. I am just another member of staff to them. But sometimes they do come in and say they have seen me on the television, and we have a bit of banter about whether I got some of the decisions wrong.
"It's really nice to have the balance of both roles and I owe a lot to the council for keeping me on and allowing me to do what I have been able to do with my refereeing career. My manager, Elin Wozencraft, has been very supportive and the Sport Powys team has been behind me all the way.
"The aim has always been to try and get to the Olympics, so to actually be selected and see my name up there, I was over the moon. It's the reward for a lot of hard work and a lot of travelling, so I'm very happy."
Nina Davies, Powys County Council's Head of Housing and Community Development, added: "We have been happy to support Adam's ambitions to referee at the highest level, and although he will be leaving us at the end of this month to work full-time with the WRU in the build up to the Olympics, we are pleased that he will be returning to us for one day a week in the autumn.
"Adam and his colleagues do a very important job in our schools and communities by providing opportunities for participation in sport for all abilities, ages and genders, and I hope some of the children he works with will take inspiration from his achievements and follow in his footsteps by participating in future Olympic Games."
PICTURE CAPTION: Adam Jones. Picture: Huw Evans Agency/WRU