Contractor appointed to build new special school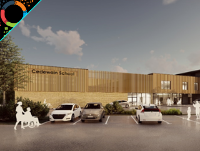 10 May 2021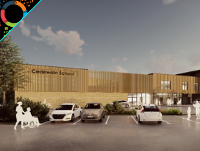 A Welsh construction company has been appointed to build new replacement special school in north Powys, the county council has announced.
Wynne Construction has been awarded the contract by Powys County Council to build a new school for Ysgol Cedewain in Newtown.
The Denbighshire-based company will be required to provide substantial opportunities for local contractors as well as deliver additional community benefits during the scheme's construction.
Meet the Buyer events will be arranged shortly so that local contractors and suppliers have the opportunity to meet Wynne Construction as part of the scheme.
Work on the £22m project, which will help the council deliver its ambitious Strategy for Transforming Education in Powys, will start in later in the year.
As part of the project, the council will be submitting a full business case in the autumn to the Welsh Government's 21st Century Schools Capital Programme, which will fund 75 per cent of the development. The remaining 25 per cent of the development will be funded by the council.
This exciting development is also the first construction project that has been tendered by the council that has used the National TOMs Framework - which stands for themes, outcomes and measures - which has been developed to help councils measure the social value outcomes in their contracts.
As part of the development, the new Ysgol Cedewain school will have purpose-built and state-of-the-art facilities including a hydrotherapy pool, sensory and physiotherapy rooms and garden as well as a community café.
Cllr Phyl Davies, Cabinet Member for Education and Property, said: "We're delighted that Wynne Construction have been appointed as the lead contractors to build the new school for Ysgol Cedewain.
"We are committed to transforming education in Powys for all our learners. Not only will these plans help us deliver our ambitious strategy but they are also key elements in transforming and improving additional learning needs provision for our vulnerable learners.
"The new school will also help us deliver our strategy for The Future of Special Educational Needs (SEN) / Additional Learning Needs (ALN) in Powys, which will guide the transformation of provision for learners with SEN / ALN.
"As part of our Vision 2025, we are committed to providing world-class facilities, especially for our most vulnerable learners. When complete, it will provide an environment where teaching staff can thrive and give vulnerable learners facilities that meets their needs, they benefit from and enables them to enjoy learning.
"We look forward to working with Wynne Construction for the duration of this project."
Chair of Governors Graham Owen and Headteacher Russell Cadwallader, said: "This is an exciting time for Ysgol Cedewain and the new school will enable use to support some of the most vulnerable people in Powys. Our pupils deserve access to the best education provision possible and the new school will make this possible."
Chris Wynne, managing director at Wynne Construction said: "We are very pleased to be working with Powys County Council on the prestigious project and such an important investment in the Additional Learning Needs provision for the region. Throughout the construction of the new school, we will look to leave a lasting legacy, by creating job and training opportunities, working with the local supply chain partners and engaging with the local community and key stakeholders.
"Providing a modern 21st Century School facility where young people can learn and develop in an inspirational environment that serves the local region is paramount and reinforces our commitment to delivering a legacy within Powys. We look forward to getting the project underway."