Britain's Got Talent Star Unveils Art Project Celebrating Foster Carers Across Wales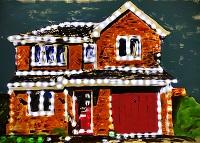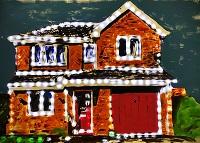 10 May 2021
Britain's Got Talent Star Unveils Art Project Celebrating Foster Carers Across Wales
Welsh artist Nathan Wyburn wants to shine a light on the work foster carers do and is asking that people in Powys and across Wales light up their homes this Foster Care Fortnight.
While many of us have had family and friends there to support us during difficult times faced over the last year, many children and young people across Wales need that support more than ever before.
Now, as Foster Care Fortnight - a national awareness raising and recruitment campaign run by The Fostering Network - begins, Powys County Council is calling on more people in Powys to consider fostering.
With this year's theme being '#WhyWeCare', Welsh artist, Nathan Wyburn, who is known for his unique methods of creating art, has produced a piece using LED lights to help prove how any house can become a safe and loving home. To view a video of the artwork visit www.powys.gov.uk/fostering
Nathan said, "I was sent a poem that encompassed everything foster carers do in providing a brighter future for children across Wales and wanted to create something that champions them in the way they open the doors to their homes - and their hearts.
"I chose to turn those words into art with a piece that signifies a home being the literal light at the end of the tunnel for children and young people.
"I think one of the biggest myths around fostering is that you have to have a big house with a big garden to be a foster carer - and that's just not true."
A video showing a time-lapse of the piece coming together and overlaid with said poem shows how the context of the art is unclear, "It's only when the lights are switched on, there is clarity," adds Nathan.
"A sense of possibility and positivity shines through!"
Now people across Powys are being asked to show their support for Foster Care Fortnight by placing a lamp in their front window next Thursday (20th May) to 'shine a light' on the work being done by Local Authority foster carers and celebrate their efforts in transforming children and young people's lives. Buildings across Wales will also be lit up in orange to observe the remarkable work they do.
Powys County Council's Cabinet Member for Young People and Culture, Cllr Rachel Powell said, "Foster carers provide a complete family support and sense of belonging for children and young people who, for many reasons are unable to be with their birth families.
"Whilst for many of us, who have found the restrictions of the past year difficult at times, for many young people, being in a safe and supportive environment, whereby their whole emotional and physical needs are met, is unfortunately, a far from real experience.
Foster cares are absolutely invaluable and we need more in Wales. They provide a range of skills to care for all aged children with variable needs, such as sibling groups, children with additional needs, and unaccompanied asylum-seeking children.
"There are many misconceptions surrounding fostering and who can undertake this profession." added Cllr Powell.
"Gone are the days of traditional stereotypes of needing to be married or being in a relationship, or having to own your own home - this is simply untrue.
"One of the things about fostering is that it's not about changing a child, it's about letting them be themselves and helping them discover who they are, so they can reach their full potential. Therefore, we welcome applications from people who can bring a wide range of life and work experiences with them to the role.
"Many people in Powys will have spare rooms that could become a valued safe space, transforming a child's life and ensuring they thrive."
Look out for messages on @PowysFostering Facebook Page throughout Foster Care Fortnight to be inspired by the positive difference fostering can make to young people's lives. If you think you could make a difference by becoming a foster carer in Powys, visit www.powys.gov.uk/fostering or call 0800 22 30627