Applications open for Powys Sixth Form courses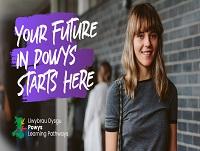 10 May 2021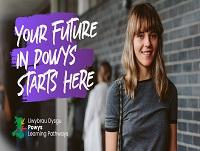 Applications are now open for Powys Sixth Form courses starting in September 2021, it has been announced.
A massive range of courses are available at a Powys Sixth Form including Law, Psychology, Further Maths and Physical Education.
Those interested in studying at a Powys Sixth Form can find the full range of courses on the Llwybrau Dysgu Powys Learning Pathways website - www.powyslearningpathways.wales/
The website gives parents, carers and learners the latest information on the courses as well as FAQs relating to the Post-16 offer in Powys.
Cllr Phyl Davies, Powys County Council's Cabinet Member for Education and Property, said: "Powys sixth forms have been instrumental in enabling our young people to make strong progress and achieve good results to ensure they can take the next steps in their chosen career pathway.
"A new course which our sixth forms are also offering is a Welsh-medium BTEC Level 3 course in Children's Care, Play, Learning and Development: Practice and Theory - this qualification is equal to two A Levels.
"Some of the courses will be provided through e-sgol, which will see lessons delivered via a live video link from the teacher while the learners can remain in their school. These 'live' lessons are with an experienced and qualified teacher, who is located at another school.
"Those who chose to study at a Powys Sixth Form could also qualify for a free laptop to help them with their studies."
To find out more about the courses and to apply visit www.powyslearningpathways.wales/