Supermarket Champion receives Silver Kite award for work within the community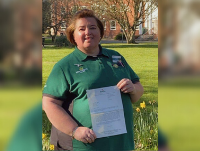 11 May 2021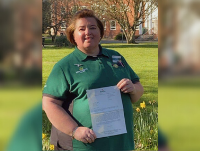 A supermarket Community Champion from north Powys who helped arrange food and support for their community throughout the pandemic, has been recognised for their efforts by the Chairman of Powys County Council.
Jennifer Coppell, a Community Champion at Morrisons in Newtown has received a Silver Kite Award from Cllr Gwynfor Thomas for outstanding services to the community by ensuring food was available for food banks, charities, churches and other organisations, so that they may distribute to those in need.
Many competitions were also arranged by Ms Coppell to help keep up the spirits of those in the community during the dark months of lockdown and proceeds were donated to charity.