Be tick aware when outdoors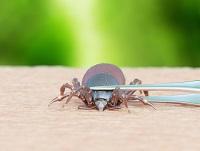 24 May 2021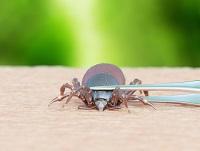 Residents in Powys planning a trip outdoors are being urged by the county council to be tick aware.
The warning has been issued by Powys County Council's Public Protection Team who want people to take steps to help protect themselves from tick bites.
Ticks can transmit Lyme disease and infections are more likely to occur in late spring, early summer and autumn. Most people are infected while participating in outdoor activities, such as walking, mountain biking, trekking or camping, both in the UK and overseas.
If people do head outdoors, the council advises them to:
Keep to paths and avoid long grass
Wear long-sleeves and long trousers tucked into socks in tick-infested areas
Ticks are easier to see against tight-coloured fabrics
Use a DEET-containing insect repellent
Inspect skin frequently, especially armpits, groin and waistband - particularly at the end of the day - and remove any attached ticks
Inspect children's head and neck areas, including scalps
Check ticks are not brought home on clothes
Check pets do not bring ticks into the home on their fur.
Cllr Graham Breeze, Cabinet Member for Corporate Governance, Engagement and Regulatory Services, said: "Ticks are very small - about the size of a poppy seed - and can easily be overlooked.
"Make it a habit to carry out a tick check - an easy way to make sure you haven't picked up a tick while outdoors. Look over your clothes and body regularly if you're outdoors and brush off any ticks you see. Carry out a thorough tick check when at home by removing your clothing and having a good look and feel for ticks - look out for anything as small as a speck of dirt or a freckle."
If someone does get bitten by a tick, removing it quickly and correctly can help to reduce any potential risk of infection. They can be removed by gently gripping them as close to the skin as possible, preferably using fine-toothed tweezers or tick removers (available at pet stores) and pulling steadily away from the skin.
Do not use lighted cigarette ends or match heads to remove ticks, or smother ticks with gel or creams.
"Being bitten by a tick doesn't mean you'll definitely be infected as not all ticks carry Lyme-causing bacteria," said Cllr Breeze.
"If you are bitten by a tick infected with Lyme causing bacteria, you can reduce the chances of the bacteria being transmitted by removing the tick quickly.
"A characteristic expanding rash, erythema migraines, is present in most but not all cases of Lyme disease.
"Seek advice from your GP or dial NHS 111 if you feel unwell after being bitten by a tick, even when you don't have a rash.
"Contact your GP or dial NHS 111 if you begin to feel unwell and remember to tell them you were bitten by a tick or have recently spent time outdoors."