Covid-19 data work nets award for Powys County Council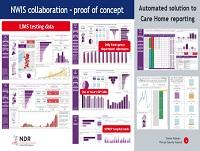 2 June 2021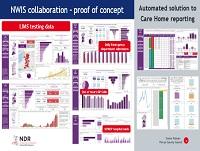 Work to link health and social care data to provide a better understanding of Covid-19 and the pressures it was putting on front-line services has netted an award for Powys County Council.
Its collaboration with Digital Health and Care Wales resulted in several automated and interactive reports being researched and produced which helped decision-makers understand demand across the county.
This ground-breaking work - a first in Wales - has now been recognised at the LARIA (Local Area Research and Intelligence Association) Impact Awards 2021, with the council's Transformation and Communications Team picking up the prize for the Best Use of Data.
Cllr Rosemarie Harris, Leader of Powys County Council (PCC), said: "The timely information provided by our business analysts and researchers has proved to be invaluable to us throughout the coronavirus pandemic.
"It has ensured that we have been making decisions based on the very best information available to us and has helped us to protect the lives and health of many of the county's residents.
"Our Transformation and Communications Team are fully deserving of this award from LARIA. Their efforts, along with those of all the council's staff and members, have been fantastic throughout the very difficult last 15 months. Everyone has played a part in supporting the health and well-being of the people of Powys."
The objective for the work was to provide early insight into some of the areas in health and social care that would help to support PCC and its partners' responses to Covid-19.
Emma Palmer, Head of Transformation and Communications, said: "We wanted to be in a good position to understand at a local level exactly what was happening, as previously we had been reliant on data coming in ad hoc, in terms of testing and positive cases.
"Our work began in July 2020 and finished in late September. We provided reports which included geo-spatial analysis, splitting the county of Powys into 13 localities (main town and surrounding area). This approach is something we have adopted for a while and enables us to have an overview, whilst at the same time easily identifying what is happening at a lower level using the thematic map. Each report provided a trend, and the viewer could also easily select the timeframe that they wished to view.
"The approach we use aims to turn complex data into something that anyone can understand.
"The reports were presented nationally and have provided a snapshot to show that you do not need very long to produce something that will have great impact. These reports are self-sufficient once built and automatically refresh four times a day. They are directly connected to the national source system and provide a richness of data not experienced before."
It has led to a second phase of work which will see business analysts and researchers concentrate on providing insight into rehabilitation services.
The reports were produced as part of the Digital Powys programme, which aims to embrace new technologies with the aim of improving council services.
PICTURE: A hub of data created because of the collaboration between Powys County Council and Digital Health and Care Wales.