Silver Kite Award for Powys' Director of Covid Mass Vaccinations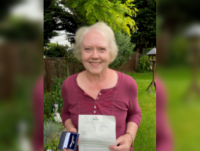 1 July 2021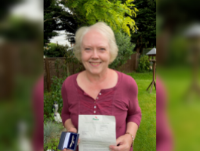 Powys' Director of Mass Vaccinations, responsible for overseeing the roll out of Covid Vaccinations across Powys has been recognised for their efforts by the Chairman of Powys County Council.
Amanda Edwards has been presented with a Silver Kite Award by Cllr Gwynfor Thomas for the sterling work she has carried out within her community and across Powys.
Ms Edwards has served as a Town Councillor representing the residents of Llanwrtyd Wells on two separate occasions.
During the last year, she has served as Deputy Mayor, whilst also being employed by Powys Teaching Health Board, taking up the role of Director of Mass Vaccinations in the autumn of 2020 and more recently the Test and Trace programme has been added to her role.