School representatives take part in e-sgol conference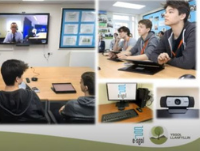 16 July 2021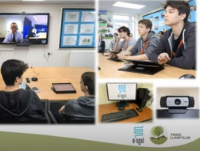 Staff and learners from a Powys school have shared their experience of an e-learning initiative that has expanded opportunities for post-16 learners to study courses that would not otherwise be available to them.
Representatives from Ysgol Llanfyllin took part in the e-sgol Blended Learning Conference, which took place earlier this month (Wednesday, July 7). The online conference gave delegates an opportunity to hear from schools who have engaged with e-sgol and from schools that are successfully developing a blended learning culture.
Powys County Council signed up to e-sgol, a Welsh Government-sponsored project, which saw video link facilities installed in every secondary school campus in the county.
Lessons happen via a live video link from the teacher while the pupils can remain in their school. These 'live' lessons are with an experienced and qualified teacher, who is located in another school.
Teachers can provide pupils with live feedback through the system, and pupils can contribute orally to the lesson exactly as if the teacher was in the room.
Also speaking at the conference was Wales' former Education Minister Kirsty Williams, who shared her e-sgol experiences as a parent and discussed her daughter's e-sgol learning experience through Ysgol Calon Cymru and Gwernyfed High School.
Cllr Phyl Davies, Cabinet Member for Education and Property, said: "I'm delighted that senior leaders, staff and students from Ysgol Llanfyllin took part in the e-sgol national conference and shared their experiences.
"Providing high-quality education opportunities for all our learners and the way we will achieve this is by using technology. E-sgol has connected learners and teachers and across Powys and ensure that all learners are offered a wider range of subject choices while giving them the best learning experience.
"We are committed to improving the learner entitlement and experience for post-16 learners in the county and e-sgol is going to be vital as we start to transform post-16 schools' provision. We want to give our learners the best learning experience so that they can thrive and meet the demands of the 21st Century.
"It was pleasing to see that Wales' former Education Minister Kirsty Williams also spoke at the conference about her and her daughter's experience of e-sgol. Kirsty was a key driver for the e-sgol project and it has revolutionised an aspect of education in Wales, which rural parts of the country have benefited from.
"I would like to thank Kirsty for all her support during her time as Education Minister and as Senedd Member for Brecon and Radnorshire and I wish her all the best for the future."
Ysgol Llanfyllin Headteacher Dewi Owen said: "We are delighted with the success that both our students and staff have enjoyed whilst pioneering the e-sgol system.
"By embracing technology, we have allowed teachers and learners from across Powys and beyond to collaborate and access courses not normally available in their home schools. Our rurality is no longer a barrier to learning."