Please take care if feeding the birds at the lake in Llandrindod Wells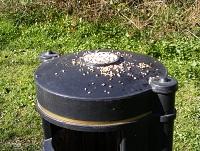 22 July 2021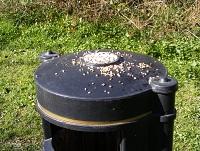 Well-meaning visitors to the lake in Llandrindod Wells are asked to act responsibly if they choose to feed the birds and wildfowl, by not placing any food on the ground, benches, paths, or bins.
"As wonderful as it is to see so many people out enjoying our wonderful outdoor attractions and getting the chance to interact with nature and wildlife, leaving food for the birds and wildfowl on the ground and other places attracts vermin, encourages the birds out of their safe habitats and results in a lot of mess on the paths around the lake." Explains Cllr Hulme, Cabinet Member for Environment.
"Over the past few months, we have sadly seen several incidences where ducks have been encouraged out of the water with food left for them on the roadside, where they have subsequently been hit by passing cars.
"Elsewhere around the lake, people have taken to leaving bird food on top of litter bins, which not only causes the bins to become covered in bird poo making it very unpleasant when putting rubbish in the bin, but also attracts vermin which then scavenge in the litter as well as feast on the bird feed."
We are lucky that the habitat of the area, including the grass and vegetation on the banks of the lake attract such an abundance of wildlife. However, the birds and wildfowl on and around the lake are wild and should be treated as such.
"Feeding wildfowl must always be done responsibility." says Darylle Hardy, from the Radnorshire Wildlife Trust. "Please only use appropriate bird food and make sure that is it thrown into the water and not left on the ground.
"Regular overfeeding can also alter the birds' natural behaviours, cause overcrowding, increase the spread of disease, delay migration of certain species, and also degrade the water quality of the lake, making it unsafe for both the wildlife and us. If you feel as though you need to feed the birds whilst visiting the lake, please do so sparingly and refrain from leaving the food on the ground, benches, paths, or bins."