Proposed Powys active travel routes published for consultation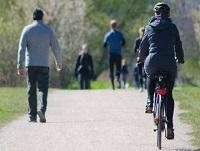 16 August 2021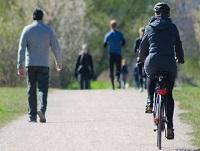 A series of Active Travel Network Maps (ATNM) developed following feedback from a recent engagement exercise, are now available online for consultation.
We recently carried out an engagement exercise where we asked how the active travel facilities and routes (walking and cycling) in areas across Powys could be improved to enable more people to walk or cycle for short journeys.
Perhaps it was simply somewhere safe to leave your bike whilst you pop to the shops. Maybe a cycle lane would make you feel more confident to ride on the road. The addition of a zebra crossing may allow pupils to safely walk to and from school. Or possibly the pavement needs improving to make walking to town with the children and a pushchair easer. There were lots of different options identified to improve the active travel routes within towns.
Following feedback from residents, town and community councils, schools, and other stakeholders, we have developed the draft Active Travel Network Map (ATNM) for each of the county's 11 designated active travel localities (as defined by Welsh Government).
These ATNMs show all the active travel routes previously identified in 2016/17, along with the suggestions and aspirational additions and improvements to the network following the feedback received during this year's recent engagement exercise.
Whilst we have not been able to include every suggestion, due to practicality, we have endeavoured to include as many routes and recommendations as possible. It is, however, worth remembering that these routes are currently aspirational only, and show the communities vision of a future active travel network in the town.
"The Active Travel (Wales) Act 2013 aims to make Wales a walking and cycling nation." Explains Cllr Heulwen Hulme, Powys County Council Cabinet Member for Environment.
"With the recent feedback from residents, community groups, schools, families and other stakeholders, we have been able to develop updated maps identifying potential future active travel routes within the 11 designated localities (the largest settlements within Powys, as designated by Welsh Government).
"Now these plans have been drawn up, it is time to ask you once again, to take look at the potential ideas and confirm we have interpreted all your responses correctly. This final part of the consultation process is important, and we want to know we've got it right before we take the plans to develop the county's active travel routes any further. The engagement we have already had with stakeholders has been invaluable and we grateful for their continued contribution. Diolch pawb."
These 11 ATNMs are now available for you to review for 12 weeks, until 7 November 2021. This is your opportunity to make sure we have interpreted the engagement exercise feedback correctly.
To view the ATNMs visit Active Travel
If you spot any potential issues with the proposed routes, please send your feedback via email to active@powys.gov.uk.