Turf-cutting ceremony held for new housing development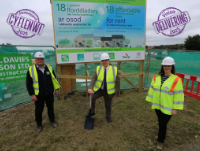 24 August 2021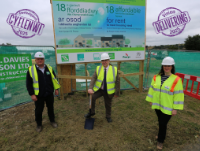 A turf-cutting ceremony has been held to mark the start of an innovative affordable housing development that is being built in north Powys, the county council has said.
Powys County Council is building 18 new homes on the site of the former Red Dragon public house and Maesyrhandir Youth Centre in Newtown and this week (Tuesday, August 24) the traditional turf-cutting ceremony took place.
The £3.5m development is being funded by the council and the Welsh Government, who have provided £2.4m grant funding towards the new council housing scheme.
This project, which has been developed by the council's Affordable Housing Team, is part of the council's Transformation Programme to deliver aspirations in Vision 2025. One of the aspirations is to build 250 new homes by 2025.
The development, which is being constructed by RLD Construction from Colwyn Bay, will consist of 18 highly efficient, energy-performing dwellings including one three-bedroomed bungalow, 11 two- bedroomed houses, three three-bedroomed houses, two four- bedroomed houses and one five- bedroomed house.
Cllr Iain McIntosh, Cabinet Member for Housing, Planning and Economic Regeneration, said: "I'm delighted that work on this innovative housing development in Newtown has started.
"The council has an ambitious target of building 250 new homes by 2025 as part of our Vision 2025. We are already making excellent progress to meet this target with several housing projects currently under construction including this development.
"Our investment is not only good news for those on the housing waiting list and seeking a council home but it provides a boost for the local economy with local sub-contractors and the supplying being supported by the work."
A 'fabric-first' approach has been taken for this development to ensure that the homes are well insulated and cost-effective to run. The development will use materials which have more environmentally friendly credentials than that offered by traditional forms of construction.
The dwellings will be built using timber frame, wood fibre insulation to the walls, brick and render outer skin and slate roofs. Heating and hot water will be provided using air source heat pumps, which is much better for the environment than gas heating.
Two of the dwellings have been specifically designed to cater for families with specific needs who qualify for being accommodated at this development.
Ecological issues have been addressed with a sustainable urban drainage system being designed for the scheme and the scheme will include a 'bat loft' for roosting bats, which are found at this location.
Prys Jones from RLD Construction said: "As a Welsh firm we are very proud to continue our work through Wales and we are delighted to be appointed as the principal contractor on the Red Dragon site in Newtown, to deliver much-needed affordable council homes in Powys.
"Already having experience of working in Powys, we are very much committed to working and engaging with the local contractors and communities through this contract."