Tenants receive keys to first council homes built in decades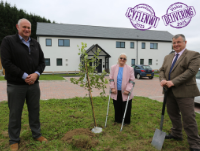 24 August 2021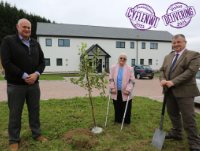 Keys to some of the first council houses to be built in Powys in over 30 years have been handed over to their tenants, the county council has announced.
The seven-property development in Sarn, near Newtown has been built by Powys County Council. It is the first social housing scheme in Powys to achieve Passivhaus certification - one of the highest energy efficiencies possible for a house.
The £1.3m project, which has been developed by the council's Affordable Housing Team, is part of the council's Transformation Programme to deliver aspirations in Vision 2025. One of the aspirations is to build 250 new homes by 2025.
Constructed by contractors Pave Aways, the development consists of four two-bedroomed bungalows, two two-bedroomed and one three-bedroomed house.
Dave and Sheila Hunt were one of the first tenants to receive the keys from the council to their new home, which they have described as wonderful.
"We've started to settle into our new home. It's a wonderful property that suits our needs and we're looking forward to making it our home for many years to come," said Dave Hunt.
Cllr Iain McIntosh, Cabinet Member for Housing, Planning and Economic Regeneration, said: "I'm delighted that we have been able to hand the keys to these ground-breaking properties to our new tenants. I hope that they enjoy their new homes for many years to come.
"This is a brilliant development that has been built to the exceptionally low-energy Passivhaus standard which will help to cut carbon emissions while tenants will have lower energy bills."
Not only has the development been built to Passivhaus standards, but it also meets the aspirations of the council's Wood Encouragement Policy. Welsh-grown timber was used for the timber frame while cellulose fibre insulation, manufactured from recycled newspaper, was used to reduce the use of plastics.
Use of plastics has been further minimised by specifying aluminium clad timber windows. The homes are finished in render, with natural slate roofs. Reducing maintenance costs was also a key factor in the scheme design and choice of materials.
"These council houses are the first to be built in Powys for over 30 years but we are building more across the county," said Cllr McIntosh.
"We're making real progress to meet our ambitious target of delivering 250 homes by 2025 and this scheme and contributed to that target. The scheme has also provided a boost for the local economy with local sub-contractors and the supply chain being supported by the work."
The scheme has also brought additional benefits for Powys with more than £1.1m spent locally, 10,500 hours of work provided on site and 4,900 hours spent on apprentices and training time through its employees and the supply chain.
Pave Aways Managing Director Steven Owen said: "These were the first Passivhaus homes we built so it's particularly special to see the tenants moving in.
"These energy efficient properties are also a great addition to the community and we hope the residents will be very happy in their homes and enjoy their new lives in Sarn."
The housing project has also been shortlisted in the Sustainability category in the Wales Property Awards that will take place in Cardiff on September 15.